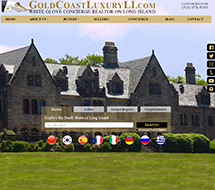 Debut Of GoldCoastLuxuryLI.com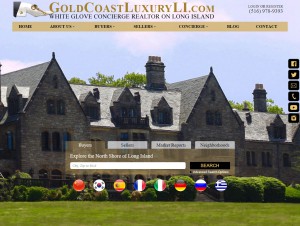 Donnamarie Chaimanis, Luxury Broker, is inviting visitors to explore her new website, GoldCoastLuxuryLI.com. The new residential real estate website provides the ultimate user-friendly experience with simple navigation and functionality.  Visitors get access to easy home search tools, extensive local area market reports, comprehensive home marketing programs, luxury real estate news and featured stories from around the globe.
The site includes extensive information to help customers monitor local luxury residential real estate trends. Technical data, home videos and market studies allow the visitor to stay informed based on their individual criteria.  Created with the luxury user-experience firmly in mind, GoldCoastLuxuryLI.com uses the latest technology so the site is compatible with today's browsers and mobile devices – without the need for Adobe® Flash to view it.
In addition, promoting the exclusive portfolio of luxury homes for sale on the Gold Coast, there are easy to use search tools which can be accessed via the new website.  The portfolio is automatically updated to show current inventories of both available and sold homes in a specific town or village.  Associated with each location are highly detailed area market reports showing such activity as inventory, median price, days on market, and average sold by quartile.  Site visitors can always access the latest information, view markets and download the latest reports from any desktop or mobile device.
In particular, sellers can get a glimpse into Chaimanis' Concierge-based traditional and contemporary home marketing platform.  These market-tested and continuously refined programs are the basis for her acclaimed White Glove Advantage – working exclusively with a select group of ultra-private clients on the Gold Coast.
The new website delivers important information buyers and sellers want to know when they are considering significant home decisions.  It also means that visitors benefit from richer online content that is easier to navigate and share. This is a result of talking with our clients over the last year to learn how they wanted information about the local real estate markets and applying that valuable feedback into creating GoldCoastLuxuryLI.com.
On the new site, visitors can stay informed with the latest market news and the entire real estate industry. The News & Media section features the latest announcements, home trends, local events and opinion pieces from industry experts.
Furthermore, GoldCoastLuxuryLi.com allows users to share information with others across Facebook, Twitter, Pinterest and Instagram.
Visit Donnamarie's new site and let her know what you think by visiting her facebook page.