12 Projects for the Holidays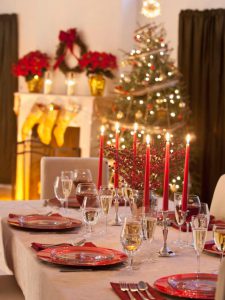 Learn how to transform your home with fun holiday decorations.
Use red and soft green tones to make a living and adjoining dining room cozy for the holiday season. By adding just the right decorations in just the right colors, these two rooms are infused with a fresh and exciting holiday spirit.
Here's how to create a festive atmosphere in any room:
1. Add color to an accent wall or an entire room with paint.
2. Layer window treatments to make a room cozier.
3. Use area rugs to lend warmth and create a nice foundation for holiday decorations.
4. Winter accessorizing can include putting shades on a chandelier, colorful place settings and candle sticks on a mantel to enhance a fireplace.
5. A holiday card holder is a festive way to display favorite cards for the season. This one is made of wire bent into swirl shapes wrapped around a column.
6. Decorate a table to give a feeling of warmth during this special time of year. Include colorful place mats, personalized place cards, candles, ribbon chair accents and holiday decorations on nearby furniture.
7. Personalize place cards made from purchased beaded ornaments and 16-gauge wire bent into a swirl make each guest feel welcome. Click on the image to see a tablescaping video.
8. Dress up an existing corner plant with a few strings of small lights, which makes it easier than removing it from the room. Place a garland of juniper branches embellished with greenery and sugared berries on a chandelier (be sure not to put it near the bulbs).
9. Draw attention to a fireplace using a collection of brass candlesticks and ivory candles with juniper around the bases. Put holiday-themed accessories on the hearth such as a large Santa holding holiday packages wrapped in a coordinating paper.
10. Exchange framed art above a fireplace for a holiday wreath made by placing a pre-made garland on top of a large wire frame and holding it in place with florist's wire. Add juniper, sugared berries and glass ornaments and hang a pair of old ice skates on the side to make a statement about the fun of outdoor winter sports.
11. Repeat some elements to pull a room together. Spread an accent color around the room and choose holiday decorations that go well together and blend nicely with the style and colors in your home. Also, use the same greens and accents throughout a space such as sugared berries and glass ornaments on garlands, wreaths and in bowls.
12. Build a sparkling tree covered in glass ornaments, berries and glitter for the final festive touch to any room.