Legend Yacht & Beach Club
If you're looking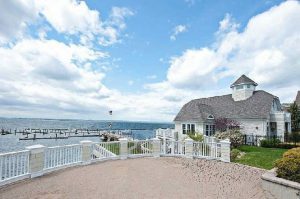 for a sought after location on Long Island's Gold Coast and Famed North Shore, there is an exclusive 24 hour gated community called The Legend Yacht & Beach Club.
This is a private Glen Cove Long Island community with an enclave of 40+ distinctive homes situated in Nassau County.  Some homes have water views and some have prime waterfront views of the Long Island Sound. There's a private marina, clubhouse, private beach, indoor tennis and outdoor pool overlooking Long Island Sound. 
This pristine setting for The Legend Yacht and Beach Club is nestled within the 55 acres that was first owned by Captain Delamar and then MGM founder Marcus Loew.  Legend Yacht & Beach Club is situated within the Glen Cove  School District #5 and is about 25 miles to New York City.
The Legend Yacht & Beach Club can be reached by Glen Cove Road to Brewster with a left on Dororis and a left to Woolsey.  It offers a stunning collection of custom single family residential homes each with its own boat slip and the private marina on the sound. Surrounded by Pembroke Drive and Delamar Ct,  you will be delighted with Legend Yacht & Beach Club's endless sunsets and its one-of-a-kind lifestyle for those buyers of discriminating taste.
Modifications to any property at this exclusive residence must first be reviewed by the Legend homeowners' association. You cannot make adjustments to your property that would block the view of the sound. Homes do not become available too often, but according to pubic records of the multiple listing service, in 2016, there were sales at The Legend Yacht and Beach Club between $990,000 – $1,950,000.