Gold Coast Mansions ~ Treasures of New York!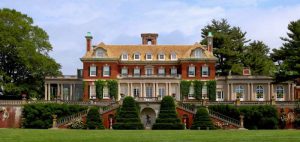 Situated on the North Shore of Long Island are America's Historic Gold Coast Mansions. These grand estates offer visitors the experience to journey back to a world of elegance and unique architectural style that defined the extravagance of the Gilded Age through the Roaring Twenties, personified in the classic novel, The Great Gatsby. Be inspired by early twentieth century architecture and landscapes designed by some of the finest and influential architects, artisans, and interior designers of the time. Learn about the life and times of the families who resided in these lavish estates and stand in the footsteps of dignitaries, socialites, and Hollywood celebrities both past and present.
Treasures takes you on a tour inside Old Westbury Gardens, Planting Fields, OHEKA CASTLE, and several other mansions on Long Island's North Shore, offering a glimpse of the Downton Abbey-style elegance that defined this historic region.
http://www.thirteen.org/programs/treasures-of-new-york/gold-coast-mansions/