Lexus unveils 885 horsepower yacht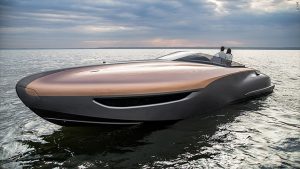 Yes, this is the 885-horsepower sea-going Lexus Sport Yacht.
The Sport Yacht is powered by two high-output Lexus V8s based on those used in the Lexus high performance RC F and GS F cars.
The 42-foot long boat can carry up to eight people at a top speed of 49 miles per hour, or 43 knots, according to Lexus.
The boat's hull and other structures are made from carbon fiber reinforced plastic, a material frequently used in high-performance exotic cars.
Because of the difficulty of working with this sort of material, Toyota (TM) Marine contracted out the construction of the Lexus boat to Marquis-Carver Yacht Group of Wisconsin, a company experienced in working on large composite structures, according to Toyota.
The Lexus Sport Yacht doesn't have sleeping quarters but it does have a shower and a kitchen, or galley, with a stove and refrigerator.
The Sport Yacht unveiled in Miami is a concept boat that is not for sale, although Toyota is trying to determine if there is a market for its yachts in the United States. Also, Lexus is trying to expand its name as an overall lifestyle brand, Lexus spokeswoman Prue Hyman said.
Toyota's Marine Business Department was founded in 1990, producing its first yacht in 1997. It's now the top seller of luxury yachts in Japan, according to Toyota, but it does not export its boats. The 26- to 35-foot Toyota Ponam yachts are all sold in Japan.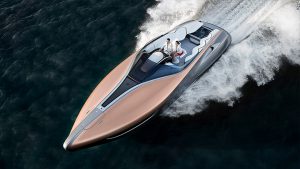 This is Toyota's first yacht project intended for the global market. That global market is heavily centered in the United States, a Toyota spokeswoman said, which is why the Lexus Sport Yacht was unveiled in Miami.