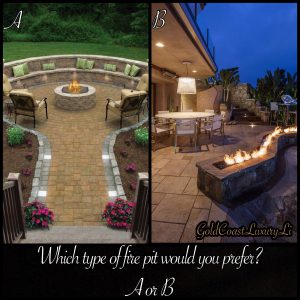 Which type of fire pit would you prefer? A or B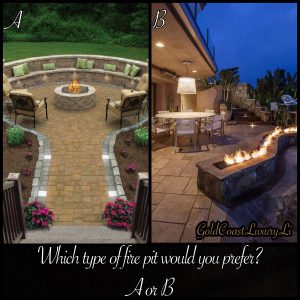 Increase your outdoor living space by including a fire pit table to your home! There are several benefits to add an outdoor fire pit to your home. Here are some of the biggest benefits of including an outdoor fire pit to your own backyard!
Entertainment: What better way to get together with family and friends by firing up a fire pit table where you can enjoy each others company. Having a fire pit during the summertime is a great way to enjoy the nice summer nights.
Cook Some Food: Outdoor fire pits provide an opportunity to cook up some food. Although, not as dialed as an outdoor grill, fire pits can provide a flame over which you can toast marshmallows to help make your delicious smores.
Stay Warm: One of the biggest benefits or having an outdoor fire pit is the ability to stay warm. You can extend your spring and fall entertaining seasons a bit by staying warm on those chilly evenings.