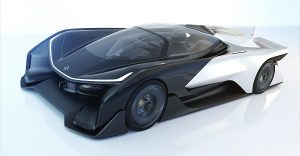 LUXURY CARS GO ELECTRIC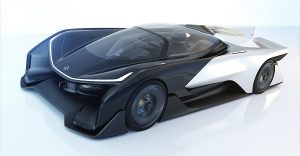 When discussing electric cars, one company has dominated the conversation: Tesla. To date, the Palo Alto, Ca luxury automaker has seen very little in the way of competition, but based on the latest unveilings, it may not be a one-horse race for long. Several recently released electric vehicle concepts have caught our eye, while only time will tell if they can offer a driving experience that can challenge Tesla's stronghold on the market, the following vehicles bear watching for anyone in search of a ride that's equal parts luxurious and eco-friendly.
Faraday Future FFZERO1 Concept:
California-based startup Faraday Future put themselves on the map when they introduced the FFZERO1 Concept (possibly pulling inspiration from the Batmobile) at the 2016 Consumer Electronics Show (CES) in Las Vegas with a claimed top speed of over 321 km/h (200 mph) and a 0–97 km/h (0–60 mph) time under three seconds. We will soon find out just how real the young, ambitious company is, as they indicated via twitter that CES 2017 will mark the unveiling of Faraday Future's first production model vehicle.
Green Lord Motors G4: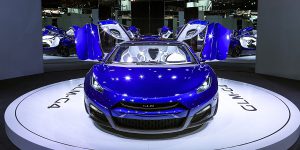 The Japanese-made G4 from Green Lord Motors (GLM) made quite the buzz upon its debut at the 2016 Paris Auto Show. Sleek and sporty with gullwing doors that make it look part supercar part transformer, the G4 boasts a top speed of 250 km/h (155 mph) and an impressive range of 400 kilometers (248 miles) on a single charge. The acceleration is also sure to excite, with a 0–100 kilometers time of 3.7 seconds.
http://www.luxuryportfolio.com/Blog/Details/luxury-cars-go-electric/a21ec222-7d3f-43ce-aecc-023670adcb40