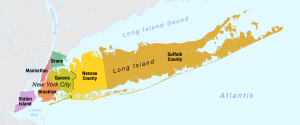 Great Winter Getaway Ideas on Long Island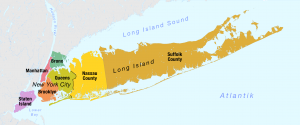 Minutes from Manhattan, Long Island is lovely in winter, too! The region offers a wealth of cultural, architectural and natural treasures-think museums and mansions, lighthouses and luxury, fine wines and festivals.
Discover quaint seaside villages, great performances and fabulous shopping!  There are also quiet beaches for strolling, pristine parks for cross-country skiing, and snow-covered hills for sleigh riding.
This route begins with a mansion full of art in Roslyn Harbor and heads east, all the way to Montauk-where you can unwind at a seaside spa or catch spectacular views from the lighthouse, on a bluff high above the Atlantic Ocean.
A. Roslyn Harbor
Start with fine art! The Nassau County Museum of Art is located on the former Frick Estate, a spectacular property on Long Island's fabled Gold Coast. This area's grand style inspired the novel and film, "The Great Gatsby." Exhibits in the mansion include vibrant works by Pop artist Peter Max, now through February 23. Opening March 8, the colorful Garden Party collection highlights famous gardens and infamous garden parties through art, costume, horticulture and landscape design.
B. Garden City
Nearby, explore over 100 years of Long Island's aerospace heritage at the Cradle of Aviation Museum. This world-class museum also features an IMAX Dome Theater, a new Planetarium, and the Red Planet Café.
C. Jericho
Head a few miles northeast to stroll through a quaint village of specialty shops. Pop in for a snack in the café or reserve a table for fine dining at the Inn. The Milleridge Inn, Cottage & Shops began in 1672 as a tiny house with only two rooms and a central fireplace, which still stand near the main entrance.  The property has grown over the years, yet maintains a traditional charm. Step back in time to browse the old-fashioned general store, toy shop, Christmas shop, unique boutiques, bakery and florist.
D. Huntington
You can dine like royalty (or Gatsby!) and even spend the night at the magnificent Oheka Castle. It's now a luxury hotel. This season's docent-guided Historic Mansion Tours, available by appointment, reveal a world of luxury on this grand historic estate. Make a reservation for a sweet ending to your tour-with tea, coffee and assorted homemade cookies and other sweets from the pastry kitchen!
E. Centerport
Just northeast, visit the historic Vanderbilt Museum & Planetarium.  This elegant Gold Coast mansion sits on a 43-acre estate overlooking Northport Harbor on Long Island Sound. Take a guided tour or check out the local history and art exhibits on your own. The state-of-the-art planetarium is one of the biggest and best in the US.
F. Port Jefferson
Continue east to Danfords Hotel & Marina, featuring a cozy restaurant and guest rooms with spectacular views of Long Island Sound. Take a walk to explore the harbor and historic village, with its fine shops and restaurants.
During the annual Dickens Festival, from December 6 to 8, the historic seaport transforms into a Victorian village. This magical celebration of the author of A Christmas Carol features costumed characters, gaily decorated streets and shops, trolley tours, horse and carriage rides, a parade, and Victorian-era entertainment and food. Come in period costume or holiday garb, sing carols, and dance in the Village Center.
G. Riverhead
Head east to Riverhead, located at the point where eastern Long Island branches into two forks. This city has fantastic attractions and great accommodations including major hotel chains. It's also a convenient base from which you can explore the North Fork's celebrated wine country as well as the Hamptons and Montauk on the South Fork.
For fabulous shopping, head to Tanger Outlets, a bargain hunter's paradise with over 165 brand-name and designer outlets from Armani to Zumiez.
The Long Island Aquarium presents a world of fun year-round. Over 25 indoor exhibits include an Amazon Rainforest and Aviary, a giant Pacific Octopus, a living Coral Reef, and a positively shocking Electric Eel!  Aquatic adventures include a (caged) Shark Dive. There's always something new and exciting to experience at the Aquarium!
The Aquarium is also home to the Riverhead Foundation for Marine Research & Preservation, a marine mammal and sea turtle rescue center. From January to mid-April, hop aboard their exciting Seal Cruise to view the winter populations of harbor seals and other wildlife in Hempstead Bay.
H. North Fork
The North Fork is a 30-mile-long peninsula on the eastern part of Long Island's North Shore. Along with charming inns and waterside restaurants, take your choice from about 50 wineries in Long Island Wine Country that host tastings and events all winter.
On six weekends, from February 16 to March 24, the annual Winterfest Jazz on the Vine presents top jazz musicians in the tasting rooms of more than 20 wineries and other venues. Admission includes a glass of wine and a chance to win a free hotel night and a gift basket of Long Island wines. You'll be in good company: Wine Enthusiast magazine has rated Long Island's North & South Forks as one of the world's top 10 Best Wine Travel Destinations of 2013.
I. South Fork / Montauk
Scenic Shelter Island connects the North Fork to the South Fork, where tours and tasting are available daily at three award-winning wineries: Duck Walk Vineyards, Channing Daughters, and Wölffer Estate Vineyard.  
With celebrated wineries, art galleries, stylish shops and spas, the South Fork is a hot destination for a winter getaway. The "off-season" rates will warm your heart!  Nestled amid the dunes of Montauk, Gurney's Inn Resort & Spa offers winter spa packages and spectacular ocean views from your cozy room or the king-size heated seawater swimming pool.
Nearby, take a ride up to the Montauk Lighthouse. The views are spectacular from the windswept bluff, high above the Atlantic Ocean.