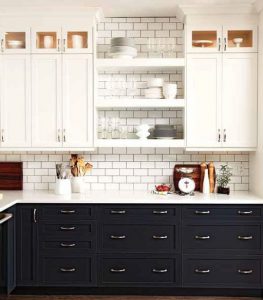 2017 Most Popular Kitchen Trends Are Stunning
You're about to see these designs everywhere.
To create the list of top kitchen ideas for 2017, experts at Zillow surveyed interior designers, real estate experts and their own slew of trending images. And we have to admit, we're pretty impressed. "From hidden appliances to beautifully painted cabinets in complementing colors, homeowners want their kitchen to be stylish enough for entertaining, yet welcoming and functional for everyday use," said Kerrie Kelly, Zillow Digs' home design expert.
Homeowners nowadays want materials and elements that are classic, durable and highly functional, which also means that there are a few features that didn't make the cut and are on their way out. Here are all the kitchen trends you should go for, plus three fads you should forget about immediately.
Hot Trend: Tuxedo Kitchen Cabinets
"Homeowners are starting to take bigger design risks in the kitchen," according to the Zillow report. "Expect to see a rise in tuxedo or two-toned painted cabinets where the top and bottom doors are painted in complimentary colors, such as navy blue and soft gray or beige."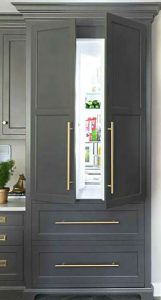 Hot Trend: Hidden Appliances
These days, people want everything in their kitchen to look beautiful — including their appliances. Thanks to this growing trend, you'll see more concealed coffee stations, microwave drawers and refrigerators disguised with cabinet fronts, like this one.

Hot Trend: Wood Paneling
According to Zillow, wood paneling or shiplap, often painted in white, will be popping up in everything from back-splashes to ceilings.
http://www.housebeautiful.com/design-inspiration/news/g3783/biggest-kitchen-trends-2016/