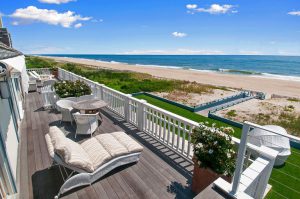 Top 5 Vacation Rentals In Montauk, Long Island
Ranked amongst the top places in the USA for having the best wide ocean beaches, Montauk is known for its spectacular 70-foot-high (21-metre-high) bluffs and dramatic unchanged landscapes. With no boardwalks and developments here, it is all natural with low rolling dunes that rim the beach, a guaranteed wholesome experience for anyone who visits.
Located on New York's Long Island, lounge around the soft fine sand for a tan, or take a dip into azure clear waters. All that's missing from this carefree and comfortable island lifestyle is a roof on top of your head for you to call home. Well, fret not, for here are 5 HomeAway and VRBO vacation rentals to give you the ultimate fun and relaxing beach time:
1. Private patio: 2-bedroom waterfront condo
Perfect for your next family vacation, summer getaway, or surfing holiday, this brand-new waterfront condo was created for guests to enjoy the Montauk experience on the shores of Lake Montauk. Thoughtfully designed with wide oak plank floors and a creatively designed wooden shelter, this pretty brick apartment welcomes you in with a wink from the twinkling fairy lights up above. Note that the minimum stay required is two to seven nights.
2. Outdoor deck: newly renovated 1-bedroom condo
This newly renovated condo is just 1.75 miles (2.8 kilometres) from the local beach and 4 miles (6.4 kilometres) from the nearest airport. Decorated tastefully with sea blue couches and seashell paintings, this living room is definitely dressed with an oceanic theme in mind, perfect for beachy Montauk! This fully equipped kitchen features a glass tiled backsplash and granite countertops, as well as all new stainless steel appliances. And, of course, no beach home is complete without an outdoor deck! Feel free to have your meals on the sectional couches as you admire the outstanding views of fort Pond Bay.
3. Oceanic view: 3-bedroom beach cottage
This charming vintage-style Montauk beach cottage suits both families and couples. It is a great location at Old Montauk Highway, which means a fast walk to one of the best beaches in Montauk. There are two outdoor decks in this lovely home, so do not hesitate to embrace nature in all of its beauty.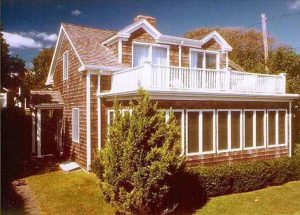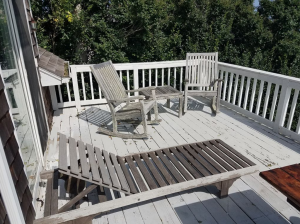 4. Beach access: 1-bedroom ocean-side resort condo
This luxury condominium resort is located on the most beautiful stretch of Ocean Beach in the Hamptons, a two-minute walk from the charming village of Montauk. Feast your eyes on restaurants, shops, and bicycle rental. Relaxation, sun, ocean surf, and luxury surroundings are yours for the asking. The ocean is calling! Be careful not to miss a step as you zoom down this stairway to the ocean and beach at the Surf Club.
5. Poolside fun: 1-bedroom oceanfront condo
Located directly across the Old Montauk Highway from beautiful Montauk Beach, this newly updated condo is only a 3-minute walk from the beach and a 10-minute walk from downtown Montauk. Head out to your own private balcony and admire the spectacular views of the beach and ocean. Relish the sights that only Montauk can offer! The beach is awesome, but the community pool is not too bad either. Take a short stroll to the community pool and dive in, something you can't do from the shores of the ocean.