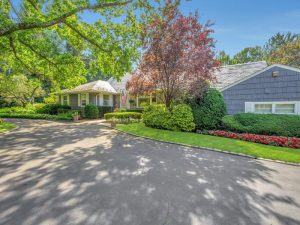 FABULOUS EXPANDED COUNTRY RANCH
Sands Point, Long Island, NY
Welcome to Harbor Acres, Sands Point fabulous expanded country ranch brings a lifestyle you want every day! This home offers a magnificent mid-block setting in the sought after Harbor Acres community. Center hall entry greets you, family and friends with timeless travertine marble and a bright, airy living room and family room. A three-sided field-stone stone fireplace and wood accents add to the warmth of this open floor plan. Easy access to an outdoor deck for added al fresco living space. Powder room, master bedroom suite with his and hers bathrooms and closets; two family bedrooms and a full bath complete the south wing of the first floor.
The well-equipped eat in kitchen offers an inviting informal dining area with gleaming granite counters and butler's pantry…all ready for the gourmet delights to be prepared and served in the formal dining room. There is an outdoor patio access and an over-sized 2 car garage that complete the north wing of the first floor.
The upper level offers a bright sitting room/office/studio and a bedroom with bath en suite. The lower level is huge and expansive. Large, bright 4-season room with wet bar leads out to the beautiful garden and patio with ig pool with new stone work. The unfinished area accommodates laundry and cedar closet. One room could be designated as a changing room/bedroom as they cleverly set up a cabana style arrangement with a water closet and shower.
Located within harbor acres allows the opportunity to join a lively community beach and tennis association.
Call today for more information or a private showing 516-978-9393
Sands Point, Long Island, NYWelcome to Harbor Acres, Sands Point fabulous expanded country ranch brings a lifestyle you want every day! This home offers a magnificent mid-block setting in the sought after Harbor Acres community. Center hall entry greets you, family and friends with timeless travertine marble and a bright, airy living room and family room. A three-sided field-stone stone fireplace and wood accents add to the warmth of this open floor plan. Easy access to an outdoor deck for added al fresco living space. Powder room, master bedroom suite with his and hers bathrooms and closets; two family bedrooms and a full bath complete the south wing of the first floor.Located within harbor acres allows the opportunity to join a lively community beach and tennis association.Call today for more information or a private showing!#LaffeyRE #TeamLaffey #FollowTheOrange #SandsPoint #LongIsland #CountryRanch #Fabulous #HarborAcres #TennisAssociation #CommunityBeach #Pool #WhiteGlove #GoldCoastLuxuryLi #DonnamarieChaimanis #ConciergeCorner #LuxuryRealEstate #CallToday

Posted by Gold Coast Luxury LI on Wednesday, March 29, 2017