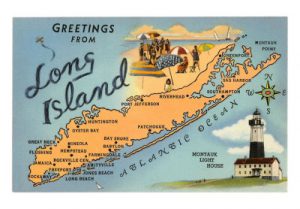 Long Island's Best Suburbs Ranked

Long Island's best suburbs to live in for 2017 were ranked based on crime, schools and other factors. Is your community on the list?
What defines a great community? According to the folks at Niche.com, a low crime rate, quality schools, access to jobs and an affordable cost of living all play big roles. Based on those factors and more, the website has released a rankings report of the best Long Island suburbs to live in for 2017.
To achieve its ranking calculations, Niche drew data from the U.S. Census Bureau, FBI, the Bureau of Labor Statistics and other sources.
When the numbers were crunched, Kensington, which is a village in the Great Neck peninsula, was found to be the No. 1 best suburb in New York.
On the national level, not a single New York suburb made the list of 100. Carmel, Indiana, earned first-place honors nationally, followed by Chesterbrook, Pennsylvania.
Overall, three Long Island towns made New York's Top 10 suburbs, but 58 made the Top 100.
Here are the Long Island towns that made the list:
Kensington— No. 1
Syosset— No. 2
Jericho— No. 5
University Gardens— No. 11
Great Neck Estates— No. 12
Stony Brook— No. 13
Garden City— No. 18
Lake Success— No. 20
Lloyd Harbor— No. 21
Searingtown— No. 22
Bellerose— No. 23
Flower Hill— No. 25
Sands Point— No. 26
Laurel Hollow— No. 30
Plandome— No. 31
Muttontown— No. 32
Great Neck Gardens— No. 35
Cold Spring Harbor— No. 37
Herricks— No. 38
Roslyn Estates— No. 39
Thomaston— No. 40
Oyster Bay Cove— No. 41
Great Neck Plaza— No. 42
Plainview— No. 43
Port Washington— No. 44
Old Westbury— No. 45
Old Bethpage— No. 46
Sea Cliff— No. 47
East Williston— No. 48
East Hills— No. 53
Kings Point— No. 57
Manhasset Hills— No. 58
Woodbury— No. 59
Munsey Park— No. 61
Northport— No. 62
Roslyn Heights— No. 64
Upper Brookville— No. 65
Port Jefferson— No. 66
Hewlett Harbor— No. 67
Huntington Bay— No. 69
Manhasset— No. 71
Old Brookville— No. 72
Dix Hills— No. 76
Merrick— No. 77
Woodmere— No. 78
East Norwich— No. 79
Lido Beach— No. 80
Port Washington North— No. 83
South Valley Stream— No. 84
Glenwood Landing— No. 86
Roslyn— No. 87
North Hills— No. 89
Lattingtown— No. 91
Rockville Centre— No. 92
Hewlett— No. 93
Village of the Branch— No. 95
South Hempstead— No. 98
Malverne— No. 99
The full list of 2017 Best Suburbs to Live in New York can be found on Niche.com.
https://patch.com/new-york/oysterbay/long-islands-best-suburbs-ranked