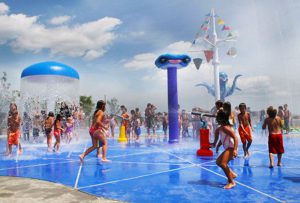 15 Super Sprinkler Parks on Long Island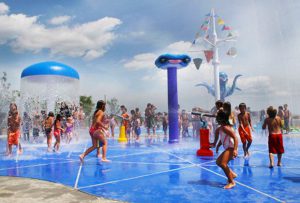 When the temperature rises, there's nothing like jumping through the sprinkler to cool off. Long Island sprinkler parks are great places to take kids because unlike pools and beaches, sprinkler parks have low water depth and often a rubber surface. Just add sunscreen and let the adventures begin.
We've put together a list of super sprinkler parks that are open to everyone. We've even included a few parks open to residents only. Proof of residency and/or a membership pass can be required at those facilities. Fees vary, so check the websites or call the parks before going.
Bay Park – East Rockaway        
198 First Avenue
Bay Park combines the playground with the sprinkler area. No need to dry off or change in between splashing and climbing on the monkey bars. There have been plenty of updates to the park, including to the playground, and pool and picnic areas. FREE for Nassau County residents, $10 parking fee for nonresidents.
Blumenfeld Family Park – Port Washington
Main Street
The spray park area at Blumenfeld Family Park is on the smaller side, but definitely keep kids playing and cooled off for an afternoon. The sprinklers are interactive, requiring kids to push buttons to start the water spray. Fountains, a giant mushroom, and large buckets dump water. FREE
Cantiague Park – Hicksville
400 West John Street
Cantiague Park is a one-stop park that has it all. The swimming facility includes a kiddie pool and interactive sprinkler play area for younger kids. There's an Olympic-sized pool, diving pool, and two water slides for older kids and adults. Fees vary for Nassau County residents and nonresidents, but are generally $6-$25 per person.
Clark Street Playground – Long Beach
100 Clark Street
The sprinkler area at Clark Street playground sits on a rubber surface so even the youngest kids can join in on the fun. Aqua shoes are optional, but handy to have when kids want to go from the sprinklers to playground. FREE
Eisenhower Park  – East Meadow  
Hempstead Turnpike and Merrick Avenue
The park at Field 2 offers a playground with a sprinkler area and splash pool. Enjoy the park's other amenities, including batting cages and miniature golf in the morning and then cool off in the sprinklers when the temperatures rise in the afternoon. FREE for Nassau County residents; fees vary for nonresidents, but generally $10-$25 parking fee.
Grant Park – Hewlett
1625 Broadway
This is a 35-acre park that offers a spray area as well as roller and ice hockey rinks. While the sprinkler area is basic, it doesn't take much for kids to have fun—just add water.  FREE
Tobay Beach – Massapequa
Ocean Parkway
The spray park was updated after superstorm Sandy, complete with a new snack shack and separate picnic area near the sprinklers The sprinkler area has low-depth water with spray arches, dumping buckets, and the always popular water cannons. Fees vary for Town of Oyster Bay residents and nonresidents (weekdays only), but generally $20-$50 to park.
Wantagh Park – Wantagh
1 King Road
The swimming complex at Wantagh Park includes an Olympic-sized pool, kiddie pool, training pool, two large water slides, and a spray pool. The spray pool's multilevel play structure has many interactive elements that keep kids busy. The pool is 1-foot deep.  Fees vary for Nassau County residents and nonresidents, but generally $5-$30 per person.
https://mommypoppins.com/likids/long-islands-sprinkler-parks