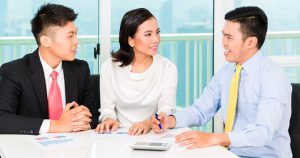 For Chinese Real Estate Investors, U.S. Is Tops
The U.S. housing market is a draw for foreign real estate investors, who continue to express assurance in either becoming or remaining active in U.S. real estate. One of the most considerable countries of origin is China, where, according to a new report by Juwai.com, investors are slated to pour $80 billion into international real estate in 2017, with the U.S. at the top of the list.
The projection, though a pull-back from 2016's record $101.4 billion, is historically one of the largest sums ever.
"2016 [was] the first time in history that Chinese buyers acquired more than $100 billion of international real estate," says Sue Jong, chief of operations for Juwai.com. "The 2016 total represents a 25.4 percent increase over 2015 and an 845 percent increase over five years. For the Chinese buyer, the United States is a near-perfect market. The United States received more than $50 billion, the greatest share of total mainland Chinese real estate investment, last year."
China has been the top country of origin for residential real estate investment in the U.S. in recent years, according to the National Association of REALTORS® (NAR), surpassing all other countries in terms of dollar volume. China has also made waves on the commercial side, making the most investment of all countries in the sector in 2016.
"Foreign buyers—especially those from China—continue to see the U.S. as a solid investment opportunity and an attractive place to visit and live," says Lawrence Yun, chief economist at NAR.
China, in addition, is ranked relatively low globally in terms of foreign real estate ownership, making it ripe for expansion, according to the Juwai.com report, which approximates over $1 trillion in international investments in the next 10 years.
"We believe we estimate conservatively when we forecast that Chinese investors will acquire more than $1.5 trillion of overseas assets in the coming decade or so as they close the under investment gap," Jong says. "Up to half this new investment could go to property."
Several real estate brands and brokerages have recognized China's impact on the housing market, forming strategic partnerships with Juwai.com, a Chinese real estate portal, to ensure exposure. They include Berkshire Hathaway HomeServices, Engel & Völkers and Long & Foster Real Estate.
"There is no denying the impact Chinese buyers are having on the North American real estate market," says Anthony Hitt, CEO of Engel & Völkers North America. "We want to ensure that we are marketing to this population in the right way and we have found that through our relationship with Juwai.com. Empowering our advisory to market to Chinese buyers gives them another competitive edge in winning listings and selling homes."
http://rismedia.com/2017/07/16/chinese-real-estate-investors-us-is-tips/