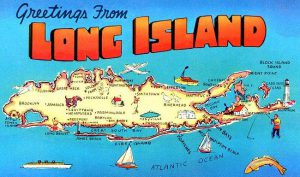 The Ultimate Guide to Long Island Downtowns

Long Island is home to two cities, more than a dozen towns, and a vast network of dozens upon dozens of villages and hamlets stretching from the Queens border in the west to Montauk Point in the east, sandwiched between the North Shore's Long Island Sound and South Shore's barrier beaches—all within Nassau and Suffolk counties.
It is an eclectic mix, for sure, and includes countless commercial businesses and companies encompassing small mom-and-pops shops and boutiques, franchises, national chains, hometown restaurants, bars, pubs, music and events venues, municipal works and residential neighborhoods. Punctuating this smorgasbord of communities are a variety of lively downtowns—characterized as popular local centralized hubs comprised of all the aforementioned businesses and attractions renowned for their wide range of exceptional cuisines, shopping experiences, activities, nightlife and tourist destinations. The following is a list of some of Long Island's most popular and well-known downtowns, along with some of their top highlights, all well worth a visit with friends, family members, loved ones, and/or simply perfect for solo excursions to explore, learn about, and ultimately, embrace.
Here's The Ultimate Guide to Long Island Downtowns:
---
A major Long Island Railroad hub that sits upon the Great South Bay, Babylon remains a coveted South Shore destination. With a rich history as a resort town purchased from the Sumpwam Indians in 1670, Babylon remains a quaint and bustling downtown that runs along Main Street and Deer Park Avenue full of shops, restaurants, and the picturesque Argyle Lake, whose white shallow waterfalls make for a popular wedding photo site. Loaded with local bars including Mary Carroll's, Lily Flanagan's, The Post Office Café, and Horace and Sylvia's, and casual restaurants such as Swell Taco, a beach-themed taco restaurant, to Del Fuego, a Mexican-style restaurant and tequila bar with a sister restaurant in Patchogue, Babylon Village is brimming with young visitors who enjoy the thriving nightlife and friendly dining scene. For breakfast or lunch, look no further than Glen's Dinette (order the Blue Monkey Pancakes) and Tricia's Café. Upscale restaurants such as The Argyle, Monsoon, Barrique Kitchen and Wine Bar, and Gemelli's (whose nearby delicatessen under the same ownership justifies a trip to Babylon alone) cater to the well-dressed foodie set. Spas, hair salons, ice cream shops, a candy store, a toy shop, coffee shops and other independent stores make Babylon a perfect walking town.
---
Huntington Village is Long Island's Manhattan. This North Shore 36-square-block cosmopolitan downtown area that comprises the village is bustling with boutique stores and restaurants along New York Avenue and Main Street that run the gamut of motifs and cuisines, from Argentine, Japanese, Mexican and Mediterranean, from upscale spots such as Prime Steakhouse, Cassis, and Besito to more casual burger fare. This cultural hub caters to Huntington's artsy crowd with such popular destinations as: renowned music venue The Paramount (where Billy Joel has been known to drop in for an impromptu concert); independent bookstore Book Revue, which has featured discussions and book signings with such noted authors as JK Rowling, Ken Follett, and Tom Clancy, former presidents Jimmy Carter and Bill Clinton, as well as both presidential candidates Hillary Clinton and Donald Trump; the Hecksher Museum of Art; events sponsored by the Huntington Arts Council; and the Inter-Media Arts Center, a theater devoted to debuting independent films. The annual Long Island Gay Pride Parade is hosted in the village, which attracts a young, boisterous crowd. Try a famous cold cheese slice at Little Vincent's—the culinary and shopping choices abound in this downtown gem!
---
The downtown area of this charming harbor town is replete with rich history, cultural heritage, and a storybook-like village. One of two ports with access to Connecticut, this is a maritime mecca, with restaurants, bars, entertainment and educational and social activities to spare. The newly developed Harborfront Park and Port Jefferson Village Center provides a central hub with appeal to every demographic that stumbles upon them, from those interested in Long Island's history to children who love to lace up their ice skates all winter long. The Maritime Explorium offers an exciting, hands-on experience for young children. Theatergoers come from all across the Island to attend TheatreThree, which houses plays for children and adults alike, all year long. The Dickens Festival takes over the village every winter, transforming Port Jefferson into Great Britain a century past, with characters in period costume showcasing scenes from A Christmas Carol, on street corners. Foodies flock to Port Jeff to sample freshly caught seafood on outside patios in the summertime, in restaurants with harborviews, including Schafer's, the Steamroom, and the Wave at Danford's. Stroll Main Street and discover art galleries, ice cream and candy shops, a rice pudding bar (!), a tea shop, and gift shops to enjoy and get lost in. Sample local beers at Brewology, and Port Jeff Brewery, bite into the perfect burger at Billie's 1890 Saloon, or indulge in some of the 100 artisan cheeses at C'est Cheese. There's so much to see and do all throughout this amazing port.
---
A shopper's paradise, East Hampton caters to the glitterati who reside on the East End, as well as the tourists who come to dine, shop, beach, and celebrity watch. Home to a ton of high-end boutiques and retail stores along its picturesque Main Street, this town is a tribute to beachfront luxury, featuring shops like Tiffany & Co., Gucci, a Missoni Home Store, Ralph Lauren, and Cole Haan. Restaurants abound, including the famed Nick and Toni's, where you can glimpse Steven Spielberg chowing down during the summer. Check out Serafina, East Hampton Grill, or The Palm for an authentic Hamptons experience. Guild Hall, the premier arts, entertainment, and education center of the community, features fascinating theatrical performances, overseen by its president Alec Baldwin. Visit in September for the Hampton Classic Horse Show. In October, the Hamptons International Film Festival is a week-long red carpet event celebrating Independent films—long, short, documentary, and fiction—and honoring acclaimed films, actors, and directors who often go on to win Academy Awards soon after. A resort town perched among world-class beaches, East Hampton is a prime destination for vacation goers both international and local day trippers alike.
---
Downtown Riverhead has undergone tremendous revitalization in recent years, beginning with the construction of Atlantis Marine World aquarium in 2000, located on 3.2 acres along the Peconic River. The addition of the Hyatt Place East End and Resort Marina has cemented its place as a resort town, perfect for those who attend weddings at the aquarium or North Fork vineyards. This quaint downtown is now full of historical treasures and beautiful riverfront scenery, commerce, dining, and leisure. With an influx of superior restaurant options, from Pera Bell (whose sister restaurant is in downtown Patchogue) to Bistro 72 and Buoy One. Close to the shopping hotspot that is the Tanger Outlets, Riverhead has become a premier North Shore destination, especially along its Main Street. This is an extremely kid-friendly town, with the Atlantis Aquarium and Splish Splash water park attracting families from all over Long Island. This increasingly walkable shopping hub is home to dozens of recently opened shops, including clothing boutiques, jewelry stores, and East Enders, a trendy and extremely busy coffee shop. The Riverhead Business Improvement District introduced four "Alive on 25" street festivals, modeled after Patchogue's popular "Alive at 5" summer events. For families, foodies, and festival-goers, Riverhead reigns supreme.
---
Since its settlement by European colonists in 1668, The City of Glen Cove (one of two cities in all of Nassau County) has been known as a quaint, quiet, and relaxing locale that is home to nearly 30,000 people. No matter the time of day or your palate, there is always something cooking in downtown Glen Cove along Glen Street, School Road and Forest Avenue. For a hearty breakfast, local landmark Henry's Confectionary has been serving up a great start to the day, since 1929. If you are looking for reasonably priced yet high-quality continental cuisine, check out the underrated American Café right next to Starbucks. For continental cuisine with a side of pizza (and perhaps a drink and even weekend karaoke), look no further than local hangout The Downtown Cafe. Those hankering for cuisine from the Far East can enjoy sushi, Japanese and Thai dishes at Asian Fusion or Tokyo Sushi, or Sweet Mandarin for some of the best Chinese that can be had on the Gold Coast. For tasty Italian fare, check out La Bussola. Andros Grill and Wild Fig serve up delicious Greek cuisine. On Tuesdays, the Glen St. Theater offers a $6 movie matinee special. The "Cruise Night" car show features the latest and greatest automobiles, while "Downtown Sounds" features numerous live acts and great tunes that is a great way to end the week and spend a summer night under the stars!
---
Voted "One of America's Prettiest Towns" by Forbes magazine, Greenport is one of the North Fork's crown jewels, and basically one massive downtown in itself, although its primary hubs are Front Street and Main Road. Situated on the deep, protected harbor on the Long Island Sound, this old whaling port boasts a thriving downtown rife with waterfront restaurants, hotels, museums and galleries, and an abundant variety of boutique shops. You just can't visit Greenport without stopping at Mitchell Field and taking a ride on the antique carousel. Restaurants run the gamut, from fine-dining establishments like the famed Claudio's, Soundview Restaurant and the trendy Frisky Oyster, to casual dining such as 1943 Pizza Bar, Biere Bar and Restaurant and Deep Water Bar and Grille. The Maritime Festival takes over downtown Greenport every fall, kicking off with a cocktail party and culminating in a parade, kayak races, music, food, local wine, children's activities, oysters, old-fashioned games and a sunset cruise.
---
When Superstorm Sandy barreled into Long Island, Massapequa and Massapequa Park, especially its southernmost areas, like pretty much all of Long Island's South Shore, were hit hard. Since then, this hamlet and village, respectively, have seen several new businesses open, joining their popular families of myriad restaurants and mom-and-pops shops lining Massapequa's Broadway and Massapequa Park's Park Boulevard. They both share an equally popular strip of eateries and boutiques lining Merrick Road, too, making this dynamic duo a powerful combination of commerce. Among some of these culinary and shopping destinations: the craft beer hub The Good Life and Tap Room, Irish fave Paddy's Loft, pizza paradise Phil's (with two locations), Long Island institution All American Burger, The Perk coffee shop, Gannon's, Fulton Street Pub, Johnny McGorey's and McCann's, just to name a few. Both Massapequa and Massapequa Park are also renowned for their plentiful parks and nature preserves, where families can hike, fish, or simply relax, taking in their splendor. Their timeless charm and delicious food have been attracting customers from all over.
---
The North Shore village of Bayville is home to absolutely gorgeous waterfront views and plenty of boutique stores, shops and activities along its main drag, Bayville Avenue. One of the most popular attractions in Bayville is the Bayville Adventure Park, featuring a mini golf, a fun house, an arcade, and an ice cream parlor. During Halloween season, the ghostly apparition of Bayville Scream Park appears, scaring the wits out of countless visitors. Some of Bayville's many eateries, hotspots and breathtaking venues include: The Crescent Beach Club, Twin Harbors Restaurant, Mill Creek Tavern, Ralph's Pizza and Souvlaki Place. Perhaps more than any other draws, however, are Bayville's renowned beaches and picturesque backdrops along the Long Island Sound and the Oyster Bay National Wildlife Refuge. These absolutely gorgeous locales provide the perfect settings for weddings, family outings, or just relaxing by the water.
---
Great Neck Plaza is a robust downtown district made up of a mix of modern and historic buildings, condos, and apartment buildings, with nearby access to the LIRR. Careful zoning and planning has created a walkable downtown district along Great Neck Road that boasts an abundance of restaurants and retail shopping that has the feel of old Manhattan. With more than 260 retail stores, Great Neck Plaza is a haven for shoppers, while maintaining its unique historic architectural facade. There a number of unique specialty stores, ranging from MuddWorks, a coffee shop with homemade roasts which change daily, to Taeree's Gift Shop, offering beautiful handcrafted jewelry, accessories, and handbags. Restaurants abound in this culinary center, from the famed Peter Luger Steak House and the sophisticated, urban chic Lola restaurant to more casual fare, such as Bare Burger and Mykonos, a fantastic Greek restaurant, and several Asian fusion eateries to choice from. Great Neck Plaza is a bastion of art, culture, food, and boutique shopping, close enough to the city for easy commuting but equipped with enough of its own to render Manhattan virtually unnecessary.
---
Downtown Mineola is filled with enough restaurants and bars along Mineola Boulevard to keep the hungry and thirsty satiated. With a culinary cross section of ethnic eateries spanning Portuguese, Italian, and Japanese, hitting price points from inexpensive to upscale fine dining, a night out in Mineola appeals to all. Check out Vicoco Wine Bar and Tapas restaurant for light Spanish fare with an expansive wine selection. For Italian specialties, try Nick's Tuscan Grill, a staple for red sauce specialties with mighty portions and excellent service. Niji consistently creates fresh, flavorful dishes that are artfully prepared and phenomenally delicious. For drinks, stop by the Black Sheep Ale House, Murphy's Bar and Grill, or Cornerstone Pub and restaurant for beer on tap and a young, lively crowd. This extraordinary village also boasts two other "downtown" areas: Jericho Turnpike and Old Country Road, both lined with even more restaurants, shops and businesses worth visiting, day or night.
---
Westbury was recently the recipient of a $10 million grant to revitalize its downtown district, which stretches Post Avenue. Westbury's location, walkability, affordable housing options, and arts and culture offerings are the foundation of a downtown that can serve as an anchor for the Island. Nearby, NYCB Theatre at Westbury and the Space at Westbury attract visitors of all ages, featuring up-and-coming artists, renowned acts, and plenty of tribute bands as well. Within walking distance of these venues, there are an array of notable restaurants, such as Galleria Dominick Ristorante, an intimate, yet casual Italian eatery, and Chi Dining Lounge, a chic, upscale space serving steaks, seafood, and brick oven pizza, among many others. Stroll the downtown and check out the charming features that are the ark of its revitalization, such as new vintage street lights, road signs, and flower baskets. Enjoy the clean look of the new facades on buildings. Shop. Eat. Listen to the great music!
---
Historic downtown Northport is Long Island's Mayberry. This shopping and dining destination, which stretches along Main Street, is right out of a Norman Rockwell illustration, with old-fashioned storefronts, antique stores, an ice cream parlor and restaurants that decorate the walkable landscape ending in waterfront Cow Harbor Park. Home to the annual Cow Harbor 10k race, Northport is a gathering center for those from all over the Island. Northport Village combines dining, culture and entertainment in a picturesque setting reminiscent of days gone past. Other events include Cow Harbor Day, Holiday House Tours, Winterfest and Summerfest concerts taking place at Heart of the Harbor Park bandstand. Restaurants abound on this strip, from fine dining to casual eateries. Maroni Cuisine is an Italian restaurant that inspires almost a cult-like status. Also check out Bistro 44 for contemporary American cuisine, Main Street Café, and Northport Feed and Grain for fantastic burgers and steaks. Heartichoke is one of the many quirky gift shops that can be found while strolling down Main Street. This shop is home to beautiful jewelry, accessories, and garden supplies. The Northport Sweet Shop is a vintage-style ice cream shop, which also serves breakfast, lunch, dessert, and is known for their homemade ice cream, and satisfying BLT sandwiches. Northport is also home to Sand City Brewing, serving a wide selection of craft brew and eats.
---
Garden City is one of Long Island's wealthiest—and prettiest—enclaves. This tree-lined historic town is supported by a significant commercial economy that includes Roosevelt Field Mall, The Long Island Children's Museum, a Sony IMAX theater, and the Cradle of Aviation Museum. Nearby, are both Hofstra University and Nassau Community College. Garden City's downtown is a walkable conglomeration of upscale restaurants, bars, spas, salons, and boutiques dotting Franklin Avenue, and is home to one of the most famous bistros on Long Island: Waterzooi. This is Long Island's only Belgian Bistro, and it's served more than 2.5 million pounds of mussels to date. Just down the street, Revel is a contemporary restaurant in an industrial space offering trendy cuisine aimed at a young, hip crowd. Likewise, Plancha Tapas and Wine caters to the upwardly mobile set, with an inventive cheese board menu and an expansive and impressive wine list. Garden City's downtown is a gorgeous spot to dine with friends, enjoy a glass of wine, and people watch.
---
This trendy village located on the Great South Bay resides nearly equidistant between Manhattan and Montauk and teems with a vast array of restaurants and pubs, shops and boutiques, and live music venues along Montauk Highway, making it one of the most popular downtowns along the island's South Shore. Among its many draws: the 1,200-seat Patchogue Theatre built in 1921 and renovated in 2000; traditional German restaurant and bar Bierhaus Patchogue; The Emporium and 89 North music venues; craft brew haven The Tap Room; That Meetball Place; Hoptron Brewtique; Blue Point Brewing Company; BrickHouse Brewery, housed in the oldest commercial building in the village; and many more. This extraordinary village is also known as a transportation hub, with access to the Long Island Railroad, ferry to Fire Island, and Suffolk County bus service, as well as connections to major highways and nearby regional airport, and own village bus that transports visitors throughout the community. Its Alive After Five street fair, featuring music, food, local craft brews, arts and more, attracts people from all across the island throughout the summer, and Patchogue is also home to the Great South Bay Music Festival, one of the largest annual music events in the region.
---
Although known as Merrick Road to western Long Islanders along the South Shore, the two-, sometimes four-lane artery becomes Montauk Highway as it winds east, and offers visitors to the South Shore hamlet of Bay Shore a wide range of retail shops, fine restaurants, bars, music venues, annual festivals and more. Among these: the fine waterfront dining hotspot The LakeHouse Restaurant; tapas paradise Tullulah's; cozy coffee shop replete with couches and unique furniture the Milk and Sugar Café; seafood and cocktail haven the Salt & Barrel; the popular Changing Times pub; Mexican go-to spot Pico Tequila; casual dining and pub grub destination Corks and Taps; watering holes The Courtland and The Penny Pub; and so much more. Bay Shore is also home to the Great South Bay Brewery, one of Long Island's most popular craft brew creators, which features a tasting room and hosts live music and events throughout the year, including its popular "Punktoberfest." Bay Shore's annual "Arts Festival by the Bay" draws tens of thousands of visitors each year.
---
This South Shore hamlet along the Great South Bay boasts a smorgasbord of extraordinary restaurants, mom-and-pops shops, live music and arts venues, and much more, with a concentration of these and other daytime and nightlife hotspots along Montauk Highway. Islip is home to Tellers, a high-end chophouse renowned for its fine-dining and posh, celebrity-like atmosphere, and Verace, an equally upscale restaurant popular among jetsetters and those seeking luxurious environs and stylish pizzazz. Among its assortment of popular bars and pubs: Lily Flanagan's, Maxwells, Bottoms Up, and The Viking. Some of its other go-to eateries include: Bubba's Burrito Bar, Mango Tango Asian Fusion, Villa Monaco, Primi Italian Steakhouse, Pizza Parm, and many more. Among Islip's other destination gems is Treme Blues & Jazz Club, offering Cajun-style tapas, gourmet meat and cheese platters, specialized cocktails, an eclectic list of wines, to-die-for desserts, and some of the best live music on the island!