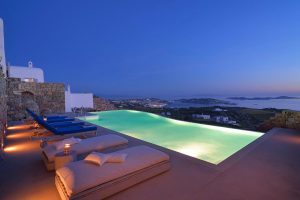 LUXURY VILLA HIGH ATOP A CLIFF IN MYKONOS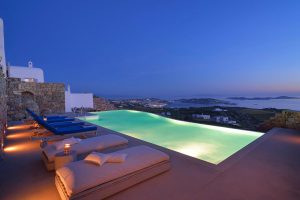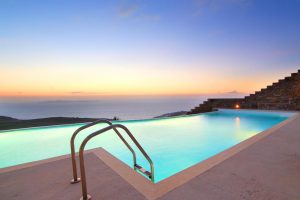 MYKONOS, GREECE
High atop a cliff, this luxury villa of 670 square meters located in Fanari area offers the perfect setting for indulging holidays in Mykonos. The villa is split in two separate buildings (adjacent) and offers a private swimming pool and a spectacular sea view.
The first building features a spacious living room area with a guest bathroom, leading up to a minimal dining area, fully equipped kitchen and a second lavish circular sitting area. Moreover, a luxurious master suite with en-suite bathroom can accommodate two guests with direct access to the exterior amazing lounge area.
On the upper floor there is a master bedroom with en-suite bathroom and a sitting area with large sofa and a designated office area, while on the ground floor, there are two bedrooms with en-suite bathrooms and another bedroom and bathroom.
Set on two separate levels, the second building features a spacious living room area with a dining area, fully equipped kitchen, WC and three master bedrooms, one of which features a bunk bed and children decoration.
Outside, there is a stone-built area in typical Myconian style, consisting of a swimming pool with sun-loungers and day beds, as well as a pergola shaded dining area with barbecue facilities and its own bathroom.
Located in the north-western side of Mykonos island, in the area of Fanari, the villa is a short distance from the sandy, family-friendly Agios Stefanos beach. Mykonos Town is approximately 5 km away, while Mykonos airport is 8 km away & Mykonos port about 3km.
Mykonos is a popular tourist destination in the Greek islands of the Cyclades group, situated in the middle of the Aegean Sea, south of Tinos, east of Syros and north of Paros and Naxos. Well-known for its nightlife, Mykonos is famed as a cosmopolitan destination among the Greek islands and widely recognized as one of the great travel Meccas and one of the busiest islands in the Aegean.
PROPERTY FEATURES INCLUDE: private parking, air-conditioning, central heating
VIEWS INCLUDE: Water
AMENITIES INCLUDE: in-ground pool
ARCHITECTURAL STYLE: Mediterranean, Contemporary
Call today for more information 516-978-9393.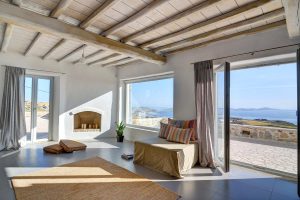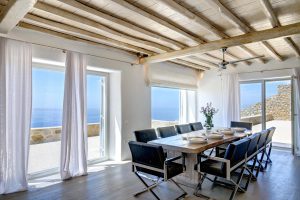 MYKONOS, GREECEHigh atop a cliff, this luxury villa of 670 square meters located in Fanari area offers the perfect setting for indulging holidays in Mykonos. The villa is split in two separate buildings (adjacent) and offers a private swimming pool and a spectacular sea view.The first building features a spacious living room area with a guest bathroom, leading up to a minimal dining area, fully equipped kitchen and a second lavish circular sitting area. Moreover, a luxurious master suite with en-suite bathroom can accommodate two guests with direct access to the exterior amazing lounge area.On the upper floor there is a master bedroom with en-suite bathroom and a sitting area with large sofa and a designated office area, while on the ground floor, there are two bedrooms with en-suite bathrooms and another bedroom and bathroom.Set on two separate levels, the second building features a spacious living room area with a dining area, fully equipped kitchen, WC and three master bedrooms, one of which features a bunk bed and children decoration.Outside, there is a stone-built area in typical Myconian style, consisting of a swimming pool with sun-loungers and day beds, as well as a pergola shaded dining area with barbecue facilities and its own bathroom.Located in the north-western side of Mykonos island, in the area of Fanari, the villa is a short distance from the sandy, family-friendly Agios Stefanos beach. Mykonos Town is approximately 5 km away, while Mykonos airport is 8 km away & Mykonos port about 3km.Mykonos is a popular tourist destination in the Greek islands of the Cyclades group, situated in the middle of the Aegean Sea, south of Tinos, east of Syros and north of Paros and Naxos. Well-known for its nightlife, Mykonos is famed as a cosmopolitan destination among the Greek islands and widely recognized as one of the great travel Meccas and one of the busiest islands in the Aegean.PROPERTY FEATURES INCLUDE: private parking, air-conditioning, central heatingVIEWS INCLUDE: WaterAMENITIES INCLUDE: in-ground poolARCHITECTURAL STYLE: Mediterranean, ContemporaryCall today for more information 516-978-9393.

Posted by Gold Coast Luxury LI on Wednesday, August 16, 2017