Chinas expanding HNWI population is driving property demand

China will soon be home to 1.87 million Chinese high net worth individuals (HNWIs), each with wealth of over RMB10 million ($1.47 million).
That means China's private wealth will soon hit a staggering RMB 188 trillion ($27.5 trillion) in 2017, according to a recent report from Bain & Company and China Merchants Bank.
Considering there were only 180,000 Chinese HNWIs recorded back in 2006, this stark contrast means that China's HNWIs grew 10x in the span of ten years – a dramatic increase and an astounding testament to how rapid China's wealth generation has been in the last decade.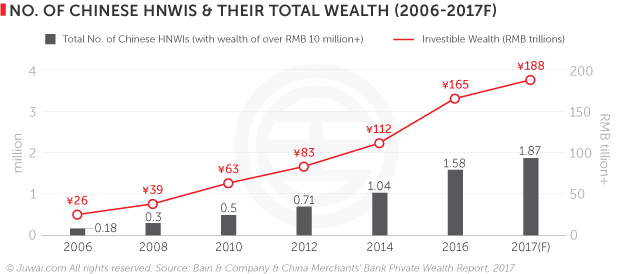 China's HNWIs are diversifying investments…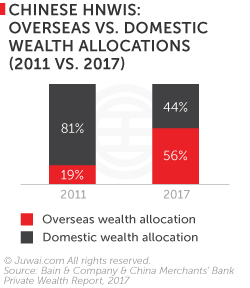 As their wealth continues to grow, Chinese HNWIs are becoming more broad-minded with their wealth allocation, with many contemplating how and where to put their money to work overseas in a bid to diversify their assets.
Chinese HNWIs are projected to invest 56% of their personal wealth abroad in 2017, a big increase from the 19% invested overseas in 2011.
Their increased interest overseas represents many different motivations. According to the Bain & Co and China Merchants Bank, 82% of China's HNWIs are looking to diversify their investments, 51% are specifically looking for overseas opportunities, while 32% are looking to invest abroad as part of their plans to emigrate.
And as China's HNWIs increasingly move their wealth overseas, the flow of capital is impacting a range of different markets, with some of the more unusual breaking down as follows:
#1 Whiskey
Known as the 'water of life,' Chinese investors have developed a taste for whiskey as a lucrative investment choice.
Scotch whiskey delivered an approximate 210% return to investors between 2006 and 2015, outperforming the FTSE All-share index, which registered an approximate 90% increase during the same period, according to Whiskey Invest Direct.
Already, whiskey retailers in Scotland are seeing HNWI Chinese spending upwards of GBP 50,000 on whiskey per trip, and most recently, a wealthy young Chinese tourist forked out 9,999 Swiss francs ($10,000) just to savour a glass of an exclusive 1878 Macallan Scotch Whiskey at the renowned Devil's Place Whisky Bar in St Moritz, Switzerland.
#2 Art
Art makes for an attractive investment outlet for Chinese investors to diversify their holdings, and China is now one of the world's largest art markets.
Chinese auction sales accounted for 34% of the total value of art sold globally in 2016.
Notable deals in recent times include the $170 million sale of Amedeo Modigliani's 'Reclining Nude' to Chinese billionaire Liu Yiqian Liu, who made headlines by paying with his American Express credit card and earning enough points to give him free first class flights worldwide for life.
#3 Handbags
Designer handbags are an increasingly popular choice for Chinese investors looking for long-term investment options. High-value pieces are hard to come by on the domestic market, and exclusive handbags like these don't just bring status, but also bring in attractive returns.
Over the past 35 years, Hermès bags brought a 14.2% average annual return, compared to the 8.65% return from the S&P 500 and a -1.5% annual return for gold, according to a Baghunter study.
More importantly, the sheer exclusivity of the Birkin bags – the wait can be as long as six years before a new Birkin would be available – has led to it becoming one of the safest and least volatile investments.
In fact, Baghunter's research has revealed that the value of a Birkin has never fluctuated downwards, which would be music to the ears of wealthy Chinese, who are always big on investment stability and yields.
A Hermès Birkin bag sold for a world record $380,000 in a Hong Kong auction in May 2017.
…but property remains their favourite investment
Nevertheless, although Chinese investors are broadening their investment horizons, property remains the firm favourite investment pick for China's wealthy.
According to the Bain & Company and China Merchants Bank report, 11% of Chinese HNWIs regard real estate as their most favored asset class – just behind insurance products, but ahead of other options such as stocks, bonds, and overseas funds.
The Hurun Report 'Chinese Luxury Consumer Survey 2017, however, revealed that real estate investments have overtaken stocks as the most popular choice of investment for Chinese HNWIs, with 64% of respondents believing a stable price rise in property within the coming two years.
Indeed, property has delivered stellar returns to Chinese buyers in recent years, with markets in buyer hotspots such as London seeing price growth of 24% between the end of 2013 and the end of 2016.12
In New York's Manhattan, median sales price for condos grew 27.9% from $860,000 in 2007 to $1.1 million last year, while median sales prices for townhouses rose 58.3% from $3.125 million in 2007 to $4.97 million in 2016.13
That said, Chinese HNWIs are increasingly looking at a wider range of locations in which to invest in property. On Juwai.com, while the US, Australia, Canada, and the UK have been perennial favourites with Chinese buyers, we've seen burgeoning interest in alternative locations, such as Panama.
This is especially apparent in Southeast Asia, where we have seen Thailand, Malaysia, and Vietnam surge in popularity with Chinese property investors recently. In fact, Thailand jumped three spots from last year to currently rank as Chinese buyers' third-most enquired country on Juwai.com.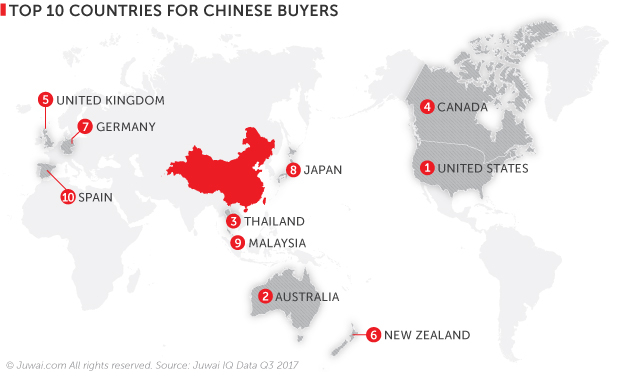 4 pointers to market better to Chinese buyers
Considering China real estate investors spent a record $101.4 billion globally last year alone, it's time to sit up and take this market seriously.
But competition is ratcheting up, so you'll have to bring you're a-game if you want to claim a share of what is one of the world's most lucrative markets. We wrap up this article with 4 tips to help you engage better with the Chinese market:
#1 Getting online
China's massive online population of 731 million internet users has been the driving force behind making the Chinese online retail market the largest in the world, and it's online where Chinese consumers' hearts and minds are won.
Online channels offer an efficient, low-cost alternative to getting over the Great Firewall and entering the Chinese market, and Juwai's platform – which sees some 2 million page visits a month – will get you, and your listings, in front of Chinese investors.
Leveraging Chinese social media is another must, especially with WeChat, as 95.1% of China's netizens now go online via mobile devices, and WeChat is their most used social media app, with 80% of Chinese netizens being active WeChat users.
#2 Understand Chinese buyers and trends
Before you begin to sell to Chinese buyers, you need to know what makes them tick. A first step would be to understand why Chinese buyers are obsessed with property investment, the challenges Chinese face when investing overseas, as well as to how safety greatly influences their property investment decisions.
Choosing the right time to market strategically is equally vital, hence preparing for peak sales seasons – Chinese New Year and the October Golden Week – is a must when targeting Chinese buyers, simply because millions of Chinese will take the opportunity to travel overseas and property hunt at the same time.
#3 Marketing to motivating factors
Chinese investors come from increasingly diverse backgrounds and are looking for all kinds of different property options, so dig deep into the market and target your marketing efforts accordingly. A way to do so is to tie your offerings to what's motivating Chinese investors, by promoting educational opportunities, health and lifestyle, retirement planning, as well as asset diversification.
For example, Chinese invested an estimated $21.67 billion into the US, Canada, the UK, New Zealand, and Australia via global investor immigration programmes beetween 2007 – 2016, according to the Associated Press.
This indicates emigration and Golden Visas as a major motivation for Chinese buyers looking abroad, and agents and brokers in these countries would do well to offer or promote related services that could aid Chinese investors as an extra selling point to attract Chinese clients.
#4 Stand out with service
Buyer experience is the new battleground to conquer the Chinese market, so be sure to offer your prospective clients the best service possible through a Chinese-tailored tour of your property line-up, outstanding hospitality, and easy access to essential support services like local lawyers, surveyors and emigration agents. All these could do wonders in helping you build better trust with your Chineseclients.
https://list.juwai.com/news/2017/08/china-expanding-hnwi-population-driving-property-demand