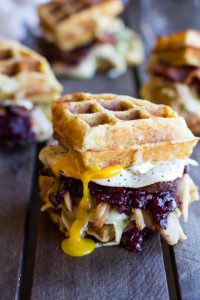 12 Easy Leftover Turkey Recipes To Make The Most Out of Your Thanksgiving Meal
There's always an abundance of turkey in the fridge after Thanksgiving. Put it to good use with these delicious leftover recipes and turn the big day into a week long event.
1- Turkey Sloppy Joes
Swap the beef for leftover turkey for a healthy twist on the classic sandwich.
2- Turkey Hash with Sunny-Side-Up Eggs
Simple and satisfying, this will be your new go-to breakfast for the day after Thanksgiving.
3- Turkey Potpie
Trade out chicken for turkey for a melt-in-your-mouth dish.
4- Slow Cooker Turkey Pumpkin Chili
Pair pumpkin with turkey for a sweet and savory fall soup that will warm you up for the holidays.
5- Simple Shepherd's Pie
Make the most out of those leftover mashed potatoes, veggies, and turkey with some good ol' comfort food.
6- Turkey Grilled Cheese with Cranberry and Brie
Sandwiches with leftovers are a day-after-Thanksgiving staple, but this one will have you cheesin' like never before.
Get the recipe at Life Tastes Good.
7- Leftover Turkey Noodle Soup
There's nothing that brings comfort after the stressful holidays like a great noodle soup, especially one that features your leftover turkey.
Get the recipe at Culinary Hill. 
8- Turkey, Smashed Avocado, Cranberry, Brie, and Mashed Potato Waffle Melts
Don't let the waffles fool you—you'll want to eat this decadent sandwich for breakfast, lunch, anddinner.
Get the recipe at Half Baked Harvest.
9- Thanksgiving Pizza
Thanksgiving leftovers on a pizza? Now that's a true match made in heaven.
Get the recipe at The Gunny Sack.
10- Thanksgiving In a Blanket
Crescent rolls make everything better.
Get the recipe at Delish.
11- Leftover Turkey Corn Chowder
One bite of this soup and you'll be glad there were so many leftovers.
Get the recipe at Creme de la Crumb. 
12- Turkey, Cranberry, and Almond Salad
If you thought chicken salad was good, you're going to love this turkey take.
Get the recipe at Fashionable Foods. 
http://www.countryliving.com/food-drinks/g4955/easy-leftover-turkey-recipes/?slide=1&thumbnails=