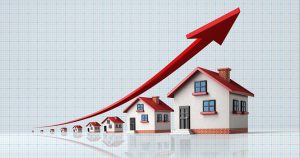 Existing-Home Sales Skyrocket Toward 11-Year High
Existing-home sales in November skyrocketed to a spree not seen in more than 10 years, the National Association of REALTORS® (NAR) reports.
Existing-home sales totaled 5.81 million, a 5.6 percent increase from October and a 3.8 percent increase from one year prior. Inventory decreased 7.2 percent to 1.67 million, 9.7 percent below one year prior.
"Faster economic growth in recent quarters, the booming stock market and continuous job gains are fueling substantial demand for buying a home as 2017 comes to an end," says Lawrence Yun, chief economist at NAR. "As evidenced by a subdued level of first-time buyers and increased share of cash buyers, move-up buyers with considerable down payments and those with cash made up a bulk of the sales activity last month. The odds of closing on a home are much better at the upper end of the market, where inventory conditions continue to be markedly better."
"Existing single-family home sales jumped 5.6 percent year-over-year in November and hit an 11-year high," said Joseph Kirchner, senior economist at realtor.com®, in a statement. "Sales showed no signs of the uncertainty that buyers faced in November regarding the impact of the tax plan; however, expectations of climbing interest rates may have induced buyers to purchase earlier than they might have."
Inventory is currently at a 3.4-month supply. Existing homes averaged 40 days on market in November, three days less than one year prior. All told, 44 percent of homes sold in November were on the market for less than one month.
"The anticipated rise in mortgage rates next year could further cut into affordability if these staggeringly low supply levels persist," Yun says. "Price appreciation is too fast in a lot of markets right now. The increase in home builder optimism must translate to significantly more new construction in 2018 to help ease these acute inventory shortages."
The metropolitan areas with the fewest days on market and most realtor.com views in November, according to realtor.com's Market Hotness Index, were San Jose-Sunnyvale-Santa Clara, Calif., Vallejo-Fairfield, Calif., San Francisco-Oakland-Hayward, Calif., San Diego-Carlsbad, Calif., and Stockton-Lodi, Calif.
The median existing-home price for all types of houses (single-family, condo, co-op and townhome) was $248,000, a 5.8 percent increase from one year prior. The median price for an existing single-family home was $248,800, while the median price for an existing condo was $242,500.
Single-family existing home sales came in at 5.09 million in November, a 4.5 percent increase from 4.87 million in October and a 3.2 percent increase from 4.93 million one year prior. Existing-condo and -co-op sales came in at 720,000, a 14.3 percent increase from October and a 7.5 percent increase from one year prior.
Twenty-two percent of existing-home sales in November were all-cash, with 14 percent by individual investors. Four percent were distressed.
"The elevated presence of investors paying in cash continues to add a layer of frustration to the supply and affordability headwinds aspiring first-time buyers are experiencing," says Yun. "The healthy labor market and higher wage gains are expected to further strengthen buyer demand from young adults next year. Their prospects for becoming homeowners will only improve if more lower-priced and smaller-sized homes come onto the market."
Three of the four major regions saw positive activity in November, with existing-home sales rising 6.7 percent to 800,000 in the Northeast, with a median price of $273,600; 8.4 percent to 1.42 million in the Midwest, with a median price of $196,100; and 8.3 percent to 2.34 million in the South, with a median price of $216,000. Existing-home sales fell 2.3 percent to 1.25 million in the West, with a median price of $375,100.
First-time home-buyers comprised 29 percent of existing-home sales in November, a decrease from 32 percent in October.