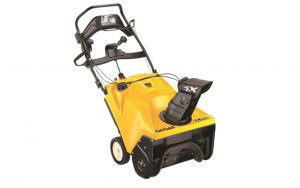 Snow Blower Buying Guide: Which One Is Right For You?
Aching back? Blisters on your hands? Catching a cold from sweating through your parka? A snow blower could sure make your life easier. But which is the best snow blower for you?
There are a lot of things to consider when buying a snow blower, including the size of your property, the surface you need to clear, How often you'll need it and average snow accumulation, where to store it year-round, and the pros and cons of each type of snow blower.
We dug through the choices to make your decision easier.
ELECTRIC AND CORDLESS SNOW BLOWERS
If you live in a place that rarely sees accumulating snow — or if you can't or just don't want to shovel — and electric or cordless model might be the best choice. They are generally lightweight and easy to maneuver, perfect for occasionally clearing your driveway or path. They are relatively inexpensive, don't require gas, and ideal for those who don't have a lot of storage space.
For the smallest jobs, we recommend a snow thrower — specifically, the Toro 38361 Power Shovel 7.5 Amp Electric Snow Thrower. Lightweight and stowable, it's ideal for seniors and condo dwellers who need to clear a small amount of snow a few times a year.
Shop Now: $99 (Home Depot)
---
If you still want an electric snow blower but need more heavy-duty applications — for example, a rocky garden path or long driveway — try the Snow Joe iON18SB Cordless Single Stage Snow Blower. Powered by a 40-volt lithium ion battery, it weighs only 32 pounds and offers up to 50 minutes of runtime when fully charged. Its 18-inch-wide brushless mouth is equipped with a heavy-duty steel auger with two rubber blades that can move up to 500 pounds of snow per minute. With functions like a rotating blow chute and integrated LED headlight, it's a moderately serious blower in a compact, environmentally-friendly package.
Shop Now: $277.99 (Amazon)
---
SINGLE-STAGE SNOW BLOWERS
The single-stage snow blower is ideal for sidewalks and paved driveways. Compact and lightweight, it is more maneuverable, but in wet, heavy snow or large accumulations it can bog down. If you live in New England or a Great Lakes state, you'll probably want something a bit more heavy-duty (scroll down). But for those who need to clear moderate snow several times a year, a single-stage is the ideal choice.
We recommend the Cub Cadet 21-inch 1X, which features an electric start (great for cold mornings) and headlight. There are plenty of quality 21-inch snow blowers, like the Toro Power Clear 721RC and less expensive ones with smaller engines like the Troy-Bilt Squall 210, but we like the Cub's superior power and remote-controlled throw chute.
Shop Now: $629.99 (Home Depot)
---
TWO-STAGE SNOW BLOWERS
While single-stage snow blowers simply suck snow up and throw it out, most can't handle high volume or packed snow. Two-stage snow blowers use collection augers to break up heavy wet or frozen snow then jettison it through a throw chute, and are great for clearing large snow drifts. They sport larger wheels and higher ground clearance, so they're able to clear gravel and uneven terrain far more efficiently. And they have larger mouths and most feature rotating chutes, which makes them ideal for lawns and wide driveways. They do take up more room, though, so you'll need dedicated year-round space in your garage or storage shed.
Our favorite is the Husqvarna ST 224P. Designed for use in all snow conditions from 6-18 inches, it has four-position height adjustable handles, a friction-disc transmission, and power steering. Creature comforts include heated hand grips, LED headlights, and an electric starter. There are plenty of larger and more powerful (and more expensive) models, and there are several cheaper models. But for snow belt homeowners in high-volume areas, we think the Husky provides the best snow blow for your buck.
Shop Now: $899.95 (Amazon)
---
THREE-STAGE SNOW BLOWERS
Three-stage snow blowers utilize a third auger that runs perpendicular to the collection augers. This third corkscrew drills into drifts and crushes snow and ice into slush that's discharged out of the chute. A step beyond the standard two-stage, three-stage snow blowers are for heavy, high-capacity jobs that need doing quickly. If you're a top-of-the-line kind of consumer, you'll want to consider a three-stage snow blower.
With its oversize tires and monster throw chute, the Cub Cadet 3X is generally regarded as the best three-stage snow blower. It comes in mouth widths from 24-34 inches, and in engine sizes from 277cc to 420cc. The 3X can go for upwards of $2,500 brand new, but right now you can get last year's 30" PRO model at a blowout price of just $1,599 on Amazon.
If you want the power of the three-stager, but prefer something a bit more compact (and less expensive), we recommend the Troy-Bilt Vortex 2490.
Shop Now: $1.099.99 (Amazon)
A snow blower can be a great investment that will save time — and your back. On a budget? Consider splitting one with a neighbor.
https://www.forbes.com/sites/forbes-finds/2018/01/06/snow-blower-buying-guide-which-one-is-right-for-you/#541061694e66