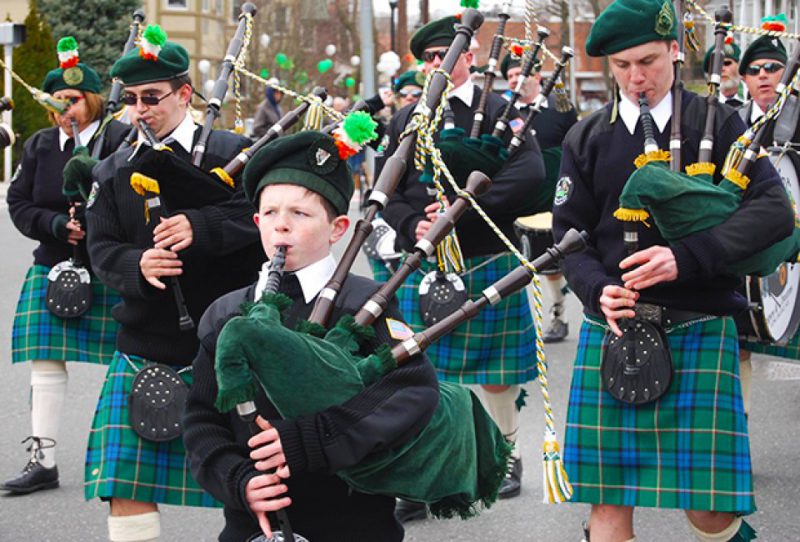 St. Patrick's Day Events and Free Parades for Kids on Long Island
Few regions celebrate their Irish heritage better than Long Island.
From Rockville Centre to Montauk, from the first weekend of March till the last, Main Streets across the Island come alive with pipers, parade marchers, traditional food, music, dance, and more. Huntington itself swells with visitors on the second Sunday of March when one of the largest St. Patrick's Day gatherings in New York State kicks off in the village downtown. That Huntington parade is dwarfed perhaps only by New York's City's celebration on the feast day itself, March 17.
We have all you need to get into the spirit of the season, beginning with the Kings Park parade on Saturday, March 3 and climaxing with Montauk's on Sunday, March 25. Most of these events are low cost or FREE, ideal for families, and appropriate for first-generation Irish-Americans or those who are just Irish for a day.
Read on for our favorites from among the 20-plus parades that will take place in Patrick's honor this month on the Island. Click through for details, including parade routes, dates, times, and more.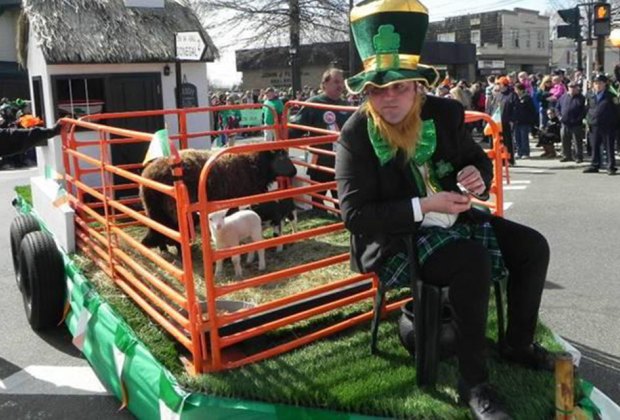 Kids, floats, animals, and, yes, leprechauns are part of the St. Patrick's Day parade in Kings Park. Photo courtesy of Kings Park St. Patrick's Day Parade
LI's Earliest St. Patrick's Day Parade — Kings Park
Saturday, March 3
Kings Park has the honor of beginning Long Island's parade season. Join grand marshal the Rev. Sean Gann of St. Joseph's Church as well as pipe bands, floats, and the marching community beginning at noon. FREE
Food, Fun, and Music at the Irish American Society — Mineola
Sunday, March 4
The cultural center opens at 2pm at the conclusion of Mineola's parade. FREE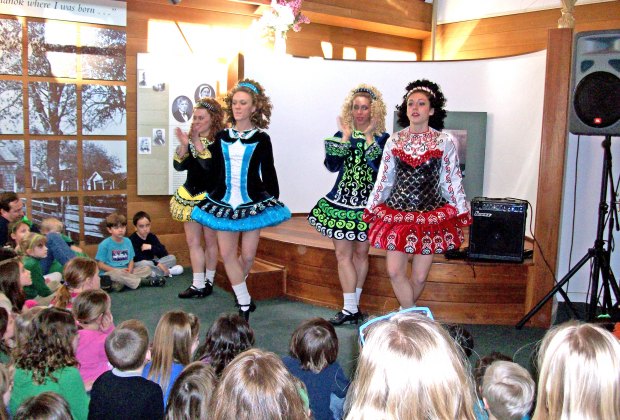 Enjoy traditional Irish dancing at the Walt Whitman Birthplace State Historic Site. Photo courtesy of Walt Whitman Birthplace
Irish Dance for Children — Huntington Station
Sunday, March 4
Enjoy a performance by teachers and students of the Mulvihill-Lynch Studio of Irish Dance. Learn about the art form, its costumes, traditions, and more at the Walt Whitman Birthplace State Historic Site.
Bay Shore-Brightwaters Parade — Bay Shore
Saturday, March 10
The celebration begins with a noon Mass at, appropriately, St. Patrick's Church. The parade steps off at 2pm rain or shine. FREE
Cutchogue St. Patrick's Day Parade — Cutchogue
Saturday, March 10
Join local merchants, sports teams, and the Cutchogue Fire Department at the North Fork's largest parade, stepping off at 2pm. FREE
51st Annual St. Patrick's Day Parade — Westhampton Beach
Saturday, March 10
The East End community recognizes Irish-American traditions and its hometown heroes. Also enjoy an outdoor kids carnival opening at 11am. FREE
Bayport-Blue Point Parade — Bayport
Sunday, March 11
The sister communities celebrate their Irish heritage with a parade down Montauk Highway beginning at 11am. FREE
Huntington St. Patrick's Day Parade – Huntington Village
Sunday, March 11
The 84th edition of the parade begins near the Long Island Rail Road station. Arrive early: More than 50,000 villagers and visitors are expected to gather to recognize grand marshal and former local Ancient Order of Hibernians president Andrew Brady. FREE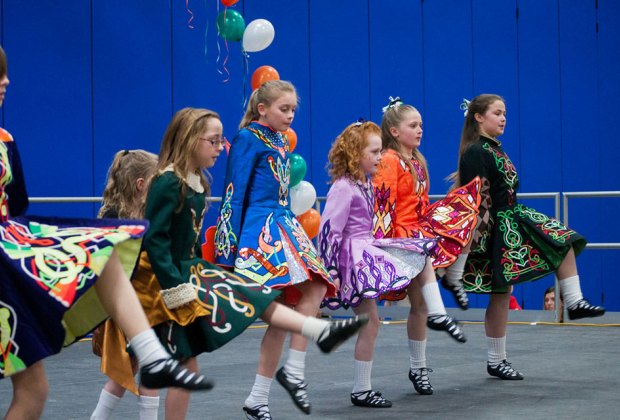 The Irish Festival at Hofstra University is a fun-filled day for all ages. Photo courtesy of the university
Irish Festival – Hofstra University, Hempstead
Sunday, March 11
Celebrate two decades of this cultural festival with traditional music, dance, food, and more at Hofstra.
Friends of St. Patrick Parade — Miller Place-Rocky Point
Sunday, March 11
The neighboring communities in Suffolk County host their 68th annual parade, beginning along Harrison Avenue in Miller Place and ending at North Country Road in Rocky Point. FREE
Claddagh Crowns — Garden City
Saturday, March 17
The Irish Claddagh ring is a three-part symbol. Hands represent friendship, the heart represents love, and the crown signifies loyalty. Build a Claddagh crown at the Long Island Children's Museum. FREE with museum admission.
St. Patrick's Day Craft — Bayville
​Saturday, March 17
Kids can paint and decorate a rainbow keepsake box at Bayville Free Library. FREE
St. Patrick's Day Dinner — Southold
Saturday, March 17
Kids should wear their best alien green to a traditional Irish feast at the Custer Institute Observatory. Enjoy the night sky from the popular North Fork planetarium. RSVP by March 14.
Glen Cove Hibernians St. Patrick's Day Parade – Glen Cove
Sunday, March 18
The largest annual parade in Glen Cove is followed by a family-friendly party at St. Patrick's Church parish hall. FREE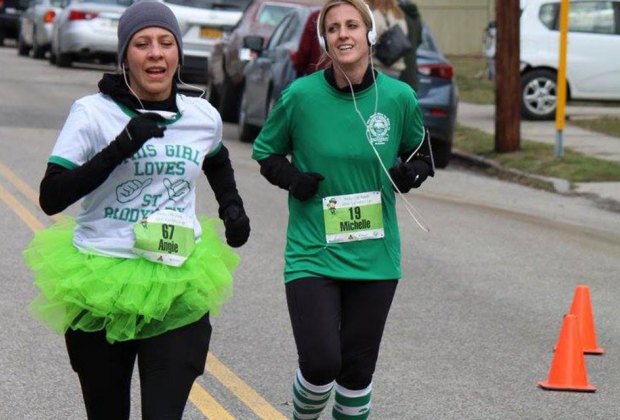 Wear some green and join the runners at St. Patrick's Day festivities In Patchogue. Photo courtesy of the event
"May the Road Rise to Meet Ye" 5K Run, Walk and Parade – Patchogue
Sunday, March 18
The annual road race for families precedes the parade along Main Street in Patchogue's emerging downtown. FREE
St. Patrick's Day Parade for Charity – Rockville Centre
Saturday, March 24
Celebrate the village's 22nd annual parade and one of the season's premier charity fundraisers. FREE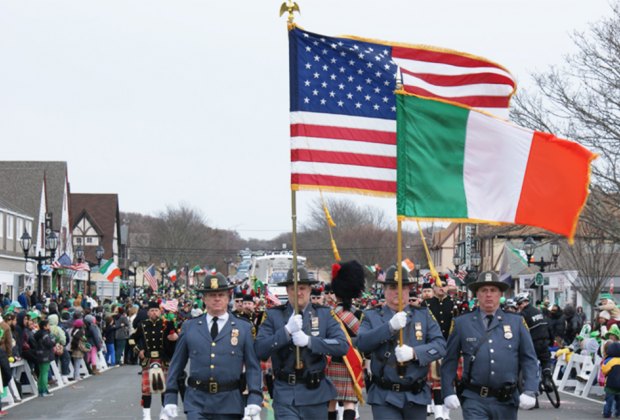 Arrive early to glimpse the pageantry of the St. Patrick's Day parade in Montauk. Photo courtesy of Friends of Erin
Friends of Erin St. Patrick's Day Parade – Montauk
Sunday, March 25
Close out a month of celebrations with one of the largest St. Patrick's parades in New York State. Arrive early for a good vantage point. FREE