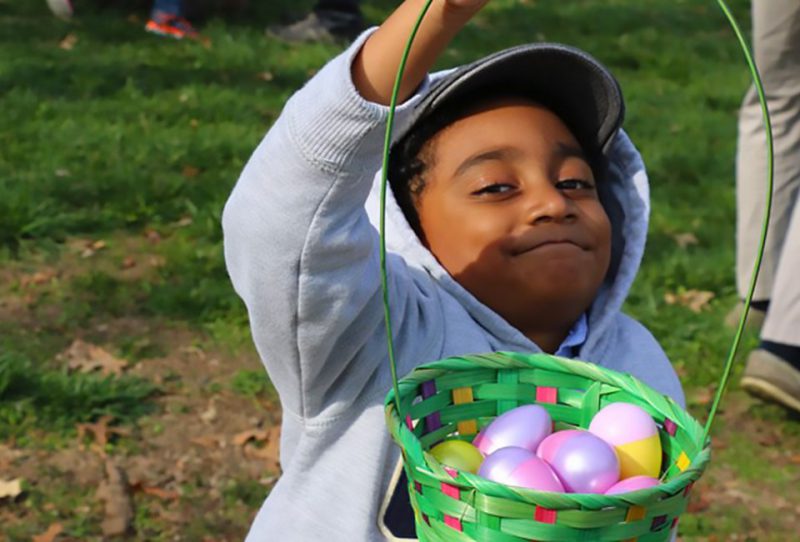 Easter Egg Hunts for Long Island Kids in 2018
This year Easter falls on Sunday, April 1–April Fool's Day–but we're not fooling you when we say we've rounded up the best Easter egg hunts and bunny visits on Long Island. With some venues preparing thousands of eggs, with the help of the Easter Bunny, of course, kids will delight in searching for and collecting every colorful, candy-filled egg.
We're glad to see so many venues have scheduled hunts by age, to give both little and big kids a fair shot at filling their baskets. Remember to bring a basket (or a bag) for the kids to hold their collected treasures, and pack your camera for Easter Bunny brunches and photo-ops. (If there's a threat of rain, be sure to give a call first.)
Nassau
Spring Eggstravaganza — Garden City
Saturday, March 24
The Long Island Children's Museum hosts a celebration of spring with games, cookie decorating, crafts, face painting, a visit from Peter Rabbit, and an egg hunt. This, however, is no ordinary hunt: Kids must find the giant eggs throughout the museum and identify the location of the eggs to get a special dinosaur egg surprise. Purchase tickets online.
Wood Kingdom West — Farmingdale
Saturday, March 24
Kids can play and hunt for eggs for 90 minutes in this huge indoor play space. Admission includes pizza and juice, as well as dessert and coffee and tea for adults. Of course, the Easter Bunny will be there as well as some surprise characters.
Breakfast and Egg Hunt at Pump it Up — Great Neck
March 24-25, March 31-April 1
This fun event begins with an egg hunt and bounce on the giant inflatables. Kids can redeem their eggs for prizes and then enjoy a bagel breakfast with the Easter Bunny. Reservations are required and can be made online.
Easter Egg Hunt Eggs-Travaganza — Farmingdale, East Meadow
Tuesday, March 27
Stew Leonard's Long Island locations host their annual egg hunts for kids age 9 and younger. Children receive a map of the store and a bag to collect eggs. Eggs contain everything from candy and games to gift cards, and one lucky kid can win the top prize of a $200 gift card to Toys R Us. Everyone gets a chance to take a photo with the Easter Bunny at this FREE event.
Chamber of Commerce Egg Hunt — Seaford
Saturday, March 31
Join the businesses of the Seaford Chamber of Commerce at this annual egg hunt. There will be 4,000 chocolate-filled eggs for kids to find as well as giveaways for tote bags. This event is FREE and begins at 10am.
Barnyard Egg Hunt — Floral Park
Saturday, March 31
Technically in the Queens section of Floral Park, the Queens County Farm Museum is but an egg's throw from Nassau County. Egg hunts will be ongoing from 11am to 3pm. Take part in old-fashioned games such as egg tossing and egg rolling and visit with the farm animals. Whiskers the Bunny will be available for photos. Purchase tickets in advance online.
Easter Brunch and Egg Hunt — Woodbury
Sunday, April 1
Enjoy a delicious brunch complete with a Coney Island kids' station with kid-friendly fare. Kids can take part in an egg hunt and visit and feed the animals in the petting zoo. The Easter Bunny will be there for photos. Call for reservations.
Suffolk
Smithtown Historical Society — Smithtown
Saturday, March 24
Bring your own basket to the Smithtown Historical Society to enjoy this historic site and hunt for eggs. Egg hunt events will be divided into two age groups: 1-5 years old and 6-10. The event begins at 10:15am and is FREE, but donations are appreciated.
Belmont Lake State Park — North Babylon
Saturday, March 24
Come to this beautiful park for its annual egg hunt and enjoy the natural surroundings. Kids can hunt for eggs in marked-off areas according to age groups and then take a photo with the Easter Bunny. There will be games, inflatables, pony rides, a petting zoo, and plenty more. This event is FREE; reservations are not required.
Easter Egg Hoppening — Mount Sinai
Saturday, March 24
Register online for one of three sessions starting at 9am, 10am or 11am. Children can collect eggs in the park, enjoy refreshments, and have their photo taken with the Easter Bunny. Bring your own basket and camera.
Walt Whitman Shops — Huntington Station
Sunday, March 25
Fun for the whole family, this annual event benefits a chosen charity. Children can hunt for eggs in Center Court beginning at 9am.
Spring Egg Hunt — Cold Spring Harbor
Saturday, March 31
Families can visit with the aquatic life and enjoy a fun egg hunt. Children up to age 2 can take their time collecting eggs in the tot garden, while kids 2-6 can join in on the hunting frenzy in a separate area. The egg hunt is included with admission but admission tickets will only be sold until 10:30am.
Benner's Farm — East Setauket
March 31-April 1
With more than 20,000 eggs for kids to collect, Benner's Farm is the place to be. Enjoy three sessions each day, at 12:30, 2, and 3:30pm, and three separate fields divided by age group. Children can collect eggs, visit with the farm's baby animals, and have photos taken with the Easter Bunny. Registration is not required, but arrive early to ensure entry for your preferred session time. Admission is $8 for adults and $6 for children.
Easter Parade and Egg Hunt — Port Jefferson
Sunday, April 1
Put on your fanciest Easter bonnet or hat and join the parade down Main Street. All walkers are welcome and the parade begins at noon in front of Theatre Three. Gather at the village center, where the egg hunt takes place on the Great Lawn. Children ages 2-8 can collect eggs, and all children will receive a treat at this FREE event.
The East End
Mad Hatter Egg Hunt — Bridgehampton
Saturday, March 24
The Children's Museum of the East End hosts an egg hunt inside and outside of the museum. Pretend to be a Mad Hatter by creating your own hat. Kids can decorate and design hats and bags after searching for "eco" eggs that contain healthy treats and goodies. Two sessions are available,10am-noon and 1-3pm. This event is $12 for non-members of the museum.
Eggstravaganza Egg Hunt — Montauk
Saturday, March 31
Enjoy an old-fashioned egg hunt and foot races hosted by the Montauk Chamber of Commerce. Kids 10 and younger are invited to participate, and Easter baskets and bunny ears are provided at this FREE event.
Eggstravaganza and Egg Hunt — Quogue
Saturday, March 31
Learn about the different types of nests found at the Quogue Wildlife Refuge and make your own nest. Children can color and decorate hard-boiled eggs to take home in their nest. Bring an old shirt or smock for the art activity, and dress appropriately as the event might take place outside. This event is ideal for kids age 5-12. Choose from two sessions: 11-11:45am or 2-2:45pm. Reservations are required.
Penguin Egg Hunt — Riverhead 
March 31-April 1
Celebrate spring at the Long Island Aquarium. Visit on Easter weekend and stay for the egg hunt, included in the price of admission. Between 10am and 3pm, children can search for eggs and perhaps win great prizes, including a birthday party at the aquarium, Family Fun Center vouchers, and a ride in the submarine simulator. The aquarium also hosts an Easter brunch on April 1.