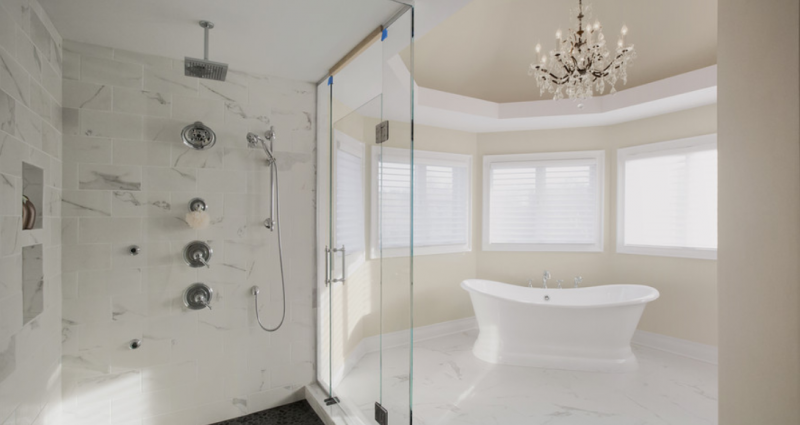 How much will steam showers and heated floors boost the price of your home?
Does your master bathroom have a steam shower? If you're not including that in your home's listing when you go to sell, you could be leaving serious money on the table.
Home listings descriptions mentioning steam showers and professional appliances sold for 29% more than their expected value, according to a new report from real-estate website Zillow.
The report analyzed listings for roughly 4 million homes that sold between January 2016 and December 2017 to determine the effect that certain upgrades had on the final selling prices versus the data used to determine the home's "Zestimate" when included in the property's description. The analysis controlled for factors such as the property's size and age and the prevalence of upgrades in a given market.
Most of the upgrades in question fell into a few categories: spa-like amenities, cooking-oriented features and craftsman or farmhouse-style finishes. Upgrades such as Carrara marble and solar panels also helped boost a home's final sales price.
The analysis did not isolate homes for just one feature, so a listing could include multiple attributes, such as heated floors and a garage studio, that make it more desirable for prospective buyers. Moreover, the presence of one of these popular keywords or phrases in a home listing may act as a signal to buyers that other features that aren't described will be to their liking.
| | |
| --- | --- |
| Home feature keyword | Premium  |
| Steam shower | 29% |
| Professional appliance | 29% |
| Pizza oven | 26% |
| Pet shower | 25% |
| Outdoor kitchen | 25% |
| Entertainer or prep sink | 25% |
| Shed or garage studio | 24% |
| Heated floors / radiant heat | 24% |
| Meditation room | 24% |
| Wine fridge | 22% |
| Chef's kitchen | 21% |
| Craftsman | 21% |
| Herringbone or parquet floors | 21% |
| Free-standing tub | 21% |
| Solar panels | 21% |
| Coffered ceiling | 20% |
| Outdoor fireplace | 20% |
| Carrara marble | 19% |
| Home theater | 19% |
| Farmhouse sink | 19% |
And precisely how new features are described does make a difference. The phrase "hardwood floors" only prompted a 10% premium, while "herringbone patterned floors" netted a 21% higher sales price. "While everyone has different style preferences, when it's time to sell, being specific and strategic with your home's listing description can have a big financial payoff," Jeremy Wacksman, chief marketing officer at Zillow said.
How much of a premium homeowners can expect will depend on what tier of the market their property is in. For instance, the phrase "solar panels" was more lucrative for homes in the lower-third of the market by price, prompting a 40% premium over other entry-level homes that didn't advertise this feature.
Mentioning features like these won't just add to the property's final selling price — it can also help it move off the market faster. Homes that highlighted "exposed brick" in their listings sold two weeks faster than those that didn't. Other phrases that helped homes sell faster by more than 10 days include "open shelving," "mid-century" and "subway tile," according to Zillow.
Some home improvements such as new carpeting made no noticeable difference to a home's final sales price. But other improvements will inherently increase a home's value. Adding a new bathroom will boost the property's value by nearly $46,000 on average, while a new roof will add roughly $14,000, according to an analysis from Remodeling Magazine.
But homeowners generally won't see a 100% return on their investment for the remodeling projects they take on. Remodeling Magazine found that replacing a garage door offers the best ROI for homeowners at 98.3%.
Quality and taste will also factor into how much of a boost a home improvement project will lend to the property's value. A fresh coat of paint is always advisable — but if a homeowner repaints their master bedroom a shade of blue rather than white, they will add $5,400 to  the final selling price.