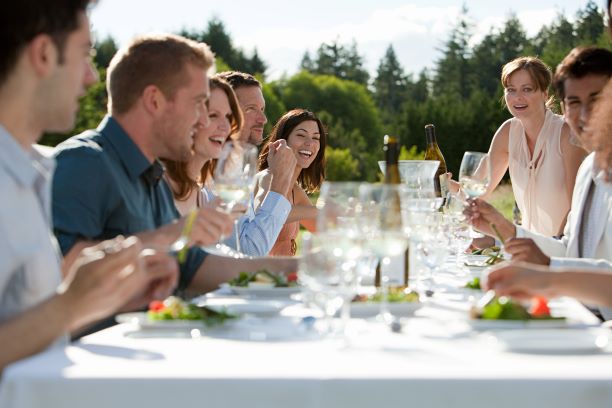 OUTDOOR ENTERTAINING TRENDS 2019
As warmer weather approaches, party planners start buzzing about outdoor entertaining. For many people, nothing can beat a springtime garden party, mid-summer poolside gathering, or early fall bonfire. With good planning and vision, your outdoor gathering can boast just as much luxury and style as any indoor soiree.
In general, the trend for outdoor entertaining in 2019 will be a blend of comfort and elegance, with well-designed outdoor spaces, thoughtful food and drink, and bursts of creative flair like unique flower arrangements or craft cocktails.
If you're interested in incorporating some upcoming trends into your outdoor entertainment plans, here are some ideas to get you started: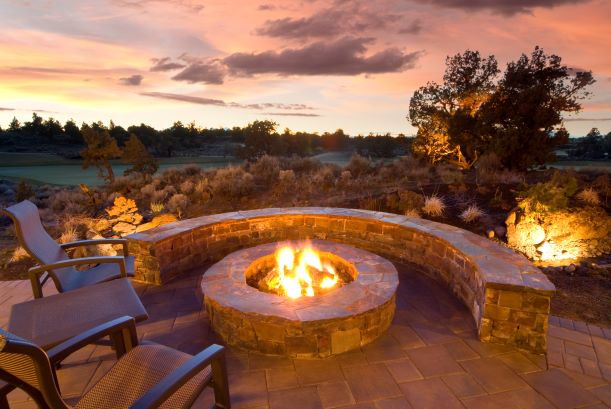 JUST ADD FIRE
Attractive and functional fire pits are a popular choice for those who frequently entertain outdoors. Safer and more elegant than an open fire, the right fire pit can enhance your patio decor while providing a cozy spot for guests to gather. Outdoor dining tables with built-in fire pits combine functionality with comfort and fun, and fire pits can be found in many styles to match your taste. Toasting marshmallows can be a luxurious activity with specialty flavored marshmallows and whimsical skewers.
---

ECO-FRIENDLY ENTERTAINING
Sustainability is a trend across the board, and for outdoor entertaining that means sustainable decor and tableware. With more and more companies offering eco-friendly products, hosting a sustainable party can still be both elegant and tasteful. Melamine dishes come in a spectrum of colors and patterns and are perfect for outdoor dining. Try fun patterned paper straws instead of plastic ones. As a bonus, these alternatives feel much more luxurious than plastic.
Local food is a big part of the sustainability trend, and it fits right into the atmosphere of an eco-friendly outdoor gathering. Find a high-end catering company that sources local ingredients, and let your guests know where the food is coming from. From quality grass-fed steaks and locally caught fish on the grill to seasonal fruits blended into cocktails, sustainable food can elevate your festivities.
---

CAPTIVATING CORAL
Adding color to outdoor spaces is an exciting trend for 2019 (no more greige!), and what better way to embrace this concept than using Pantone's Color of the Year? This year, the color is Living Coral, a mellow, uplifting shade. Try incorporating coral into your outdoor design with throw pillows, blankets, outdoor rugs, and tablecloths. You could even work it into your flower arrangements or cocktail recipes. Bold color choices are also trendy, so don't be afraid to use colors that pop for your outdoor entertaining.
---

CREATIVE LIGHTING AND FLOWERS
Now that more extravagant lighting solutions are available and accessible, expect creative hosts to ramp up their lighting style when planning outdoor gatherings. Layered lighting, projections, and strong lighting statements are all ways to create an impressive atmosphere for outdoor entertaining.
Floral arrangements have moved beyond simple tabletop centerpieces and are often a striking piece of design in and of themselves. Monochromatic floral designs, flower ceilings, and unique plants like succulents will be gracing patios and gardens in 2019. If floral design is beyond your own comfort level as a host, hire a good local florist to help prepare for your outdoor parties.
---

INNOVATIVE COCKTAILS
Nothing enhances an outdoor gathering like the perfect cocktail. For outdoor entertaining in 2019, cocktails will have surprising ingredients – think turmeric or mushrooms. Locally-produced spirits (especially gin) will be a hot ingredient and educating guests with tastings and flights will be a highlight. Even mocktails will be elevated beyond the standard Shirley Temple as more sophisticated nonalcoholic mixers and recipes are available.
Whether you follow some of these trends or bring your own creative touches to your outdoor parties, this entertainment season is sure to be full of fun, comfort, and luxury.
https://www.luxuryportfolio.com/Blog/Details/outdoor-entertaining-trends-2019/ca0075ba-9294-4348-b82b-f506c27b4f75