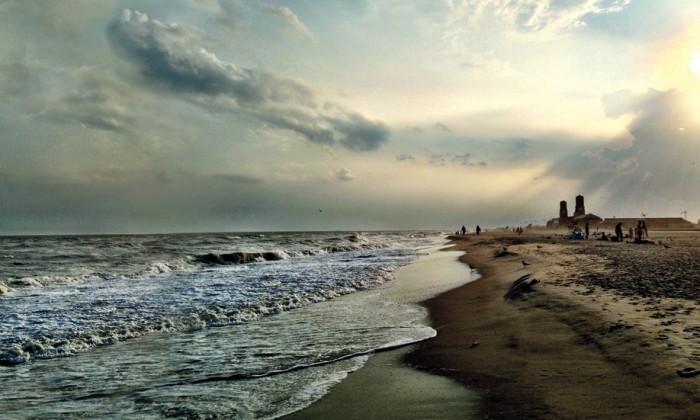 Summer in the City
When summer finally breaks through to warm the winter-weary of New York, the beaches of Queens should be at the top of your seasonal to-do list. The Rockaways are making their comeback as urbanites look for a beach oasis within city boundaries. Sandy spots are welcoming beach bags under umbrellas, in quiet spots that feel far away from it all or among bikini-clad, margarita-fueled revelry.
Catch Some Rays
If you're hoping to make like the Little Mermaid and be where the people are, head to Beach 90th through Beach 116th Street for the bustling zone of Rockaway Beach, a free city park stretching from 3rd to 153nd Streets. Along with a five-and-a-half-mile boardwalk, this is also the city's only legal surfing beach—you can catch a wave between Beach 67th and 69th Streets and Beach 87th and 92nd Streets. And if you need to stock up on goodies like chips or a couple of chilled bottles of white wine, convenient shops like Ship to Shore Wine Shop are not far from the sand. Spend the daylight hours exploring the clean beach and boardwalk, then head a bit further into town come dinner (and drinks) in time to mingle with locals and other visitors.
Rockaway Beach Surf Shop is a one-stop shop for any hanging-10 needs. Shop for surfboards, stand-up paddleboards, skimboards, boogie boards, wetsuits, rash guards and more, or get some easy-breezy designer beachwear. The family-owned surf shop has been outfitting wave dogs for more than 40 years. Locals Surf School should be next on the list for those who've never dropped into a wave or even stepped foot on a board before.
See and Be Seen
Close to the public transportation drop off point of Riis Park, the Riis Park Beach Bazaar offers boardwalk views, food, drinks, live music and more for a full day and night of coastal celebrations. Mainly located at Bay 9 East, bites from food stands are on display in delicious form (last summer's vendors included Rockaway Clam Bar and Ample Hills Creamery) as well as pop-up options further down the sand near Bay 2. It is possible to rent almost any seaside needs here, as well as find games like ping-pong and check out special events and concerts every weekend. Those of-age can indulge in frozen alcoholic beverages (frosé, anyone?).
Fort Tilden is a natural respite that feels worlds away from the big city. Partly because it is not accessible by public transportation (bike, drive or ferry only), it's possible to score a large stretch of beach with enough personal space to indulge in NYC's legal topless sunbathing. Nature hikers will also appreciate the miles of grassy dunes to trek. While ambling along paths, explore abandoned buildings first built by the military during World War I (nuclear missiles were once kept at the military base here). Be sure to find the abandoned chapel near the beach that is host to the colorful remnants of artist Katharina Grosse's "Rockaway!" installation.
Caution: there is no lifeguard on duty here, keep your wits about you in the water.
Beachside Dining
For sticky, finger-licking summer eats, find excellent casual fare like hot dogs at Rippers, empanadas from the Rockaways offshoot of the East Village Caracas Arepas Bar and nearby bar-taco spot hybrids like Pico.
Off Beach 87th Street, a bit of a walk from Rockaway Beach, stumble into Rockaway Beach Surf Club, a casual eatery with quintessential California beach vibes. The outdoor patio, painted with sandy scenes and calaveras (colorful skulls), has plenty of benches and chairs to sit upon while sipping brews, cocktails, frozen margaritas or fresh-squeezed watermelon or coconut juices (tip: escape to the small bar area inside to get some shade). Get on line at the Tacoway Beach stand for $3.50 fish, chorizo or tofu tacos, quesadillas and chips and guacamole. Just know there will be a line on weekends, but trust us, these tacos are worth it.
Early risers can get their bagel fix from Surfside Bagels, and health nuts can juice to their heart's content at Brothers. There's plenty of local-leaning spots within a couple miles' walk, like the curry and live music venue Thai Rock, a raucous night out with local musicians at Epstein's Beach (close to the ferry) or Sayra's Wine Bar, the perfect place to relax in a backyard with a $10 glass of wine. And make time to dine at Uma's, a hyper-local and hyper-friendly neighborhood mainstay. The spot isn't anything fancy, but the menu is a delicious mix of Russian and Uzbek dishes, from shish kabobs to beef dumplings to borscht. Note: it can get packed come dinnertime. Plus, there's regularly live music in the evenings. No matter what, don't leave without trying the halva ice cream.