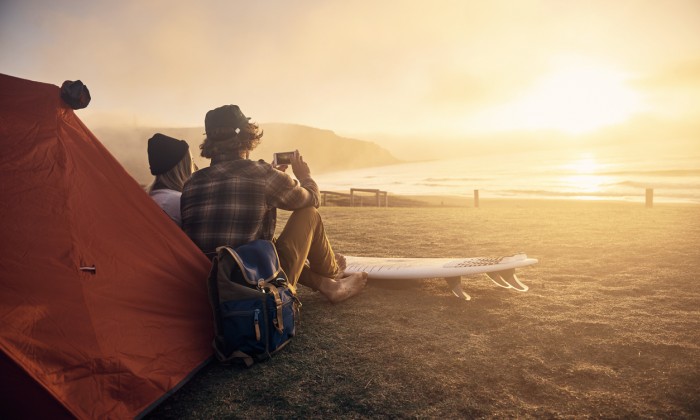 6 Amazing Places to Camp on Long Island
We have it all here. The greatest city in the world at our fingertips, top-rated beaches, wineries to rival any on the West Coast, incredible dining and…camping. Yep…camping. Fans of sleeping under the stars really have no reason whatsoever to cross a bridge. Here are two reasons why local happy campers should consider staying put. For one, Long Island is unique in that it offers the opportunity to soak up the great outdoors without being in the sticks. Two? Because, beach. Check out six campgrounds on the Island that have everything going for them.
Battle Row Campground, Old Bethpage
Season: Tent camping May through October; RV camping year-round.
Size: 44 acres; 64 campsites
Good to know: This is a great place for first-timers, who maybe live in western Nassau and don't want to drive too far to dip their toe in the camping experience. This small, manageable campsite has plenty of woods and green space (opt for a site along one of the inner roads, rather than near the office, if you want a bit more room and fewer trees). Restrooms and private showers are available, as well as a playground and a sports field.
What's nearby: Bethpage State Park, Trail View State Park, Museum of American Armor, Old Westbury Gardens, Adventureland and the Sagamore Hill National Historic Site. (And, perhaps not least of all, IKEA and Whole Foods Market.) 
Blydenburgh County Park, Smithtown
Season: While the park itself is open year-round, camping is only allowed April 1 to Nov. 11.
Size: 627 acres; 50 campsites
Good to know: It's a scenic spot with plenty of opportunities for campers to interact with nature and even absorb a little bit of history. Blydenburgh draws many campers who are also avid bird watchers. Located at the headwaters of the Nissequogue River, row boats are available for rent to take out on Stump Pond. Fishing is also permitted. Folks commonly reel in pumpkinseed sunfish, perch and bluegill. The Blydenburgh Farm and New Mill Historic District and its grist mill is an easy stroll. Puppers are welcome: they'll find a dog run and small park just for them.
What's nearby: Neighboring Caleb Smith State Park Preserve shares some of Blydenburgh's hiking trails; guided hikes are led on a regular basis by members of the Long Island Greenbelt Trail Conference. Harmony Vineyards, with views of the Long Island Sound, is about a 20-minute drive.
Cedar Point County Park, East Hampton
Season: April 1 to Nov. 11
Size: 607 acres, 190 sites
Good to know: On a peninsula, this campground is in a shady forest and offers lovely views of Gardiners Bay and a long, sandy beach. The latter is the big draw here. Those with a license can hunt for waterfowl in season, or surf cast for bass and bluefish. Canoes can be rented to take out on the lake, and a general store is on site. Fun fact: The historic Cedar Point Lighthouse was on an offshore island when it was built in 1860. Since the hurricane of 1938, there's been a walkable strip connecting it with the mainland.
What's nearby: The village of Sag Harbor, with its excellent eateries, cute shops and Sag Harbor Whaling and Historical Museum, is right there. It's also a short ride to the nightlife of the Hamptons. 
Eastern Long Island Kampground, Greenport
Season: May 4 to early November
Size: 186 sites
Good to know: This family-run site is a top pick for campers with kids, as sites are available for tents, trailers, motor homes and pop-ups. Guests will find a swimming pool, camp store, laundry facilities, a playground, WiFi and a game room. The owners run supervised activities for children, and special events for everyone, such as "Christmas in July" and "Western Weekend" in August. Guests are given access to the town beaches.
What's nearby: Walking distance to the village of Greenport and the Long Island Sound, and a short drive to Splish Splash waterpark and all of the North Fork wineries.
Hither Hills State Park Campground, Montauk
Season: April 13 to Nov. 17
Size: 190 sites
Good to know: This destination seems to be mentioned more often than any other by Long Islanders who know their campgrounds. Hither Hills has a resort vibe to it with activities such as movie nights, sand castle contests, arts and crafts, folk and line dancing, magic shows, courts for horseshoes, basketball, volleyball and tetherball and environmental education programs. Campers find fireplaces and picnic areas, and a large freshwater lake, where anglers can drop a line year-round, even at night (with a permit). But the highlight of being at Hither HIlls is being able to sleep right on the two-mile ocean beach. The "walking dunes" of Napeague Harbor are on the eastern boundary of the park, which also boasts lovely Russian olive, oak and pine trees. Be aware, though, that there is very little shade overall, so campers who aren't sun worshippers may want to bring something for shade.
What's nearby: Montauk Downs State Park, Montauk Point State Park, Camp Hero State Park and Shadmoor State Park.
Smith Point County Park, Ocean Beach
Season: April 1 to Nov. 11
Size: 200 sites
Good to know: Smith Point County Park is on the Fire Island barrier beach, and it's a spot that's huge among surfers and sport fishermen, whether campers or not. Outer beach camping is available on a first-come, first-served basis. Smith Point has an award-winning team of lifeguards watching over the shore, a huge plus for many campers. Off-road vehicles (with a permit) can drive on the western portion of the outer beach. Shorebird watching and scuba diving are popular pastimes. Showers, fire pits, barbecue grills and a camping store are all available here.
What's nearby: The campsite is on Fire Island, which in itself is a tourist destination with plenty of diversions, not least of all taking a tour of the historic 168-foot-high Fire Island Lighthouse. The villages of Sayville and Bay Shore, full of great restaurants, bars and shops, are both a short ferry ride away. The William Floyd Estate, which offers tours on weekends, is also close, in Mastic.